In This Section
Spinach Salad with Blueberries, Goat Cheese, Almonds and Balsamic Vinaigrette
By

Dartmouth-Hitchcock's Culinary Medicine Program

May 24th, 2020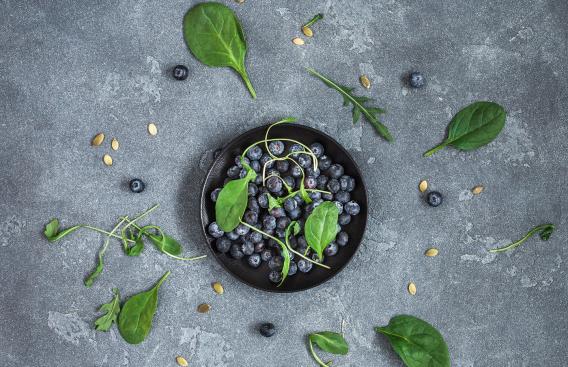 Servings: 8 (2 cups)
Preparation time: 15 minutes
Cooking time: 5 minutes
Ingredients
Salad
1 large bag spinach, washed
1 avocado, cubed
1 cup blueberries
1 large cucumber, diced
½ cup slivered almonds, toasted
4-5 ounces goat cheese
Balsamic Dressing
¼ cup balsamic vinegar
¼ cup olive oil
1 teaspoon mustard
1 teaspoon honey or maple syrup
Instructions
Salad
Toast almonds in dry skillet until golden brown (approximately 5 minutes).
Arrange spinach in a serving bowl or on individual plates.
Sprinkle with cucumber, blueberries, avocado, almonds and goat cheese.
Drizzle with balsamic dressing.
Dressing
Combine vinegar, mustard and honey/syrup in small bowl.
Slowly whisk in olive oil.
Nutrition facts
Nutrition (per serving) – 1 cup
Calories 146.9, Total Fat 6.0g, Cholesterol 6.5mg, Sodium 98.6mg, Total Carbs 7.2g, Dietary Fiber 3.4g, Protein 4.6g
Balsamic Dressing – 1 tablespoon
Calories 66.8, Total Fat 7.0g, Cholesterol 0.0mg, Sodium 17.6mg, Total Carbs 1.6g, Dietary Fiber 0.0g, Protein 0.0g
Find more recipes and healthy eating tips in the Cooking Up Health section of the Health and Wellness newsletter.