Photography by

Mark Washburn

April 4th, 2017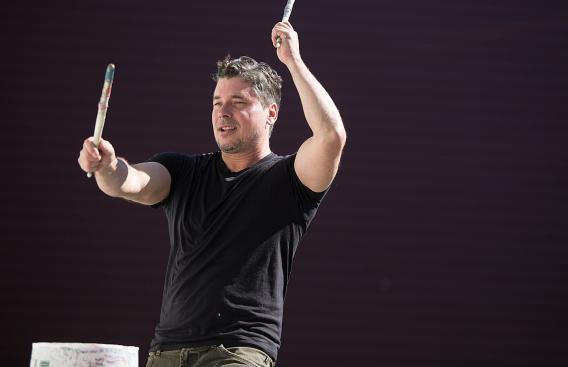 Everyone at D-H understood how important it was that I returned to sharing drumming.
Rich Regione
Not since he first picked up a pair of drumsticks at age 11 has Rich Regione held back from fully expressing himself through drumming. It was drumming that helped him overcome a learning disability and provided the skills to be more confident and able to work with other people. Through drumming he learned the value of self-determination and eventually it became his livelihood, taking him around the country where he got to share his passion for drumming with millions of people using an athletic approach and visual style created through a wide range of motion.
After years of touring, at 40, Regione decided it was time to share his passion in a different way: by going into schools and educating kids on the same life-changing attributes he learned from drumming. He founded Youth Beatz (youth-beatz.com), and through one-off events and extended residencies was soon visiting close to 100 schools a year.
"My intent when I go into schools," Regione says, "is to use drumming to help create a safe, respectful, responsible community of learning, which helps build kindness and respectfulness towards one another. For me, that's what drumming facilitates."
He adds, "Now I don't just drum for myself. I drum for thousands of kids every year."
That was until a motocross accident on August 1, 2015, the day Regione's career as a national touring drummer, drumming educator and enrichment provider was suddenly thrown into jeopardy. During a practice run in Wentworth, New Hampshire, he was thrown from his bike. "I remember getting to the track that day," he says, "and that's all I remember."
His injuries were severe and multiple: a fractured hand, broken ribs, a punctured lung, an injured shoulder and head trauma. After being stabilized, Regione was transferred to Dartmouth-Hitchcock Medical Center. It took several hours before he regained consciousness and began to discover the extent of his injuries as well as the long road to recovery he had ahead of him.
Regione quickly learned what good care he was in, from the Emergency Department to Physical Therapy, it came from many people throughout the Dartmouth-Hitchcock (D-H) system.
"I remember being in the ER," says Regione, "and my good friend's son, Jeffrey Danyew, who's a nurse at Dartmouth-Hitchcock, recognized me immediately. After I'd been there a couple days, because of my head injury I'd become frustrated and was a bit of hard case for a little while. Jeffrey saw this and understood, 'This isn't the Rich I've known my entire life.' So he made sure to take extra care of me, and got me the things I wanted, things he knew would comfort me. Jeffrey really kept an eye on me."
Following weeks of recovering from broken ribs, and after Gary Freed, MD, in Plastic Surgery reset and inserted three pins into his fractured hand, Regione knew that the process of returning to 100 percent functionality as a drummer was only beginning. When the sling finally came off and the pins were removed, feeling how immobile his hand was and how painful it was to stretch the tendons, he says, "That's when the real work started."
Regione can't heap enough praise on the team of physical and occupational therapists who worked with him on a weekly basis at the Heater Road facility in Lebanon, including Aimee Burnett, PT, and Alison Trow, PT, in Physical Therapy; and Jennifer Chickering, OTR, CH, James Perry, OT, and Dana Tinker, OT, in Occupational Therapy. "They inspired me as intelligent, caring people. And they made a wonderful assessment of me: that I had a really low tolerance for pain. I'm a Marine, a motocrosser and I'm always out in the woods, so that fired me up. I realized that I had to toughen up and work through the pain. The alternative was to lose functionality."
The Rehabilitation Medicine staff at Heater Road were dedicated to helping Regione get back to drumming and to continue to make a difference in kids' lives. "They told me, 'We're going to work with you until you're 100 percent," he says. "'You're going to get your life back, Rich.'" And after six months of physical and occupational therapy, Regione says they became his family and they did give him his life back. Regione's own family and friends were supportive and understanding, and made sure he got back and forth to his appointments, especially his girlfriend, Grace.
All told, it was a little over a year between the day of the accident and the day Regione returned to the thing that motivated him all throughout his recovery: those thousands of students he gets to share the attributes of drumming with.
Regarding the care he received at D-H—and the Heater Road location especially—Regione is certain that "it's the best facility I could've possibly been in." He adds, "I am unbelievably thankful. Words can't express it. Everyone at D-H understood how important it was that I got back to drumming—not just for me, but for kids and communities. And that's huge."