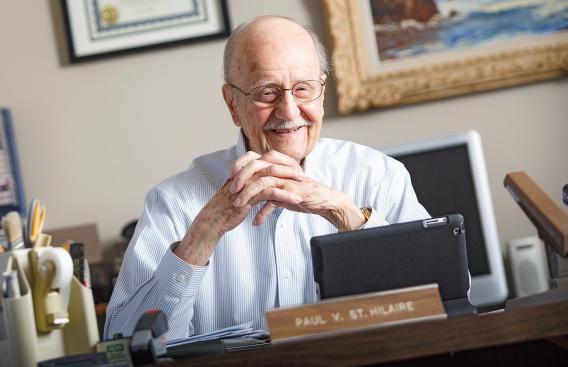 From the first appointment, we understood that the system wasn't broken. Somebody had it right, and it was Dartmouth-Hitchcock.
Paul St. Hilaire, Manchester, NH
In the early months of 2013, Paul St. Hilaire's health took a turn for the worse. The 84-year-old accountant from Manchester, New Hampshire, had developed atrial fibrillations due to a failing aortic valve in his heart and was suffering from severe degenerative joint disease in his right hip. Paul needed both his heart valve and the joint in his hip replaced.
But he and his son John, who served as his health care advocate, were losing faith in the health care system after a series of bad experiences. "Other places were putting things like dollars, insurance and egos before the patient; they made us feel like a number," says John.
That all changed when John's extensive research to find an alternative to open-heart surgery for his dad led them not to Boston, as they had expected, but to Dartmouth-Hitchcock (D-H)— where Paul underwent an advanced, minimally invasive procedure called transcatheter aortic valve replacement (TAVR). TAVR is a treatment for patients with severe aortic stenosis who are not ideal candidates for traditional open-heart surgery.
Before the TAVR procedure, Paul couldn't walk five feet without being out of breath. "Immediately after the surgery, I was able to breathe normally. It was amazing," he says.
The St. Hilaire family was so impressed with the care they received, they chose to return to D-H two months later to see the Orthopaedics team. Paul had a minimally invasive hip replacement procedure, called anterior hip arthroscopy. "The hip is perfect; there's no pain whatsoever," says Paul, who still enjoys doing work around his house.
"Both care experiences were phenomenal," he says. "The doctors came in every single day to ask questions and do tests to make sure everything was going well. They introduced themselves by their first and last names. That was impressive; it made us feel like old friends. And the nursing staff kept asking what else they could do for us. They made us feel like we'd known them forever.
From the first appointment, we understood that the system wasn't broken. Somebody had it right, and it was Dartmouth-Hitchcock."