Photography by

Mark Washburn

July 1st, 2016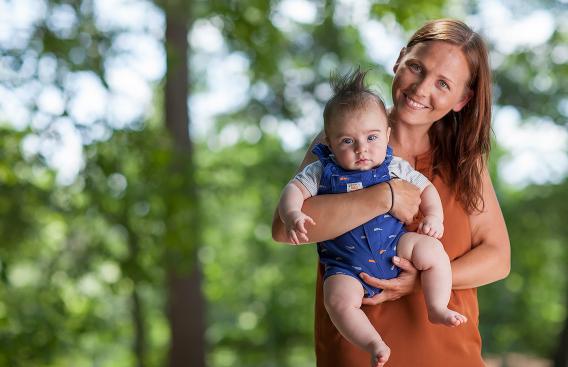 It was just a really positive experience and we're so happy! They're miracle workers. They're giving people like us a family.
Laura Montenegro, Manchester, NH
Laura Montenegro has been sharing stories about the people and communities of New Hampshire for the past two years as a news anchor and reporter for NH1 Radio. Now she wants to share a personal story about how her fertility journey led her to Dartmouth-Hitchcock (D-H).
"Infertility is such a sensitive topic and people who don't go through it really don't understand the emotional rollercoaster couples are on," Montenegro says of the nearly five years she and her husband Franklin (Frankie) spent trying to conceive a baby. "I had people—all with good intentions—tell me along the way, 'Maybe you're having trouble getting pregnant because you played soccer' or 'You just need to relax and it will happen.' Or the best one was when someone told me, 'Maybe it's because you're white and your husband's Latino.'
"All of the unwanted 'advice' made me stop talking about it to anyone except my husband. And I think that is what most women do. But I realized instead we need to do the opposite. No one would ever tell a woman with cancer, 'Just relax… your cancer will go away.' I think women, especially, need to start talking about infertility and we need to start supporting each other. There was nothing I or my husband did 'wrong' to end up with infertility. I think the more the public is educated, the less ignorant they will be."
For Montenegro and her husband it all started in Ecuador in 2009, when she was a Peace Corps volunteer in rural Puerto Limon. During a visit to the city of Santo Domingo to watch World Cup soccer at a bar, a mutual friend introduced her to Frankie. She and the native Ecuadorian quickly fell in love and Montenegro told him, "Well, you know you'll have to move to the U.S. now. He said, 'What?!' But then he did."
After a lengthy immigration process, they settled in Manchester, N.H., in December 2010 and were married in March 2011. Eager to start a family, Montenegro stopped using birth control but didn't get pregnant during the ensuing 18 months. Frankie had joined the National Guard and was often away for training for a month or two at a time, and Montenegro's OB/GYN thought the stress of these absences might be contributing to their conception difficulties. He advised the couple to keep trying once Frankie was home for longer stretches. But after six months with no success, Montenegro did some testing through her OB/GYN office and was prescribed the fertility drugs chlomiphene and letrozole. When these didn't help her conceive, her doctor recommended that the couple visit a fertility clinic.
Montenegro chose a clinic close to their home, which she said was "a buy two get one free (treatment) type of thing. If you tried IVF twice and it didn't work, they would pay for the third time." More testing was done—she got a hysterosalpingogram (HSG) and his semen was tested.
"Everything came back fine," Montenegro says. "The thing that wasn't fine was my relationship with the clinic. From day one I felt that something wasn't right. I wasn't connecting with the doctor. When my HSG workup came back fine she told me I should think of it as my eggs are like me at a bar and 'you don't want to talk to that guy so you're just ignoring him.' She was essentially telling me that's what was going on with my eggs and my husband's sperm. And I'm thinking, that doesn't make me feel very good; I think you're missing the point."
Shortly after that, Montenegro made an appointment at D-H Bedford's infertility clinic in September 2014. There she had a consult with Medical Director for Assisted Reproductive Technologies and Infertility Misty Blanchette Porter, MD. Dr. Blanchette Porter discussed the plan they would follow to help Montenegro and her husband conceive, and also the importance of considering adoption if they were unable to conceive. "Infertility is a really private thing to discuss, but from that first meeting with Dr. Blanchette Porter I felt comfortable and thought, 'This is how I should feel talking about this,'" says Montenegro. "So we decided to move forward with IVF through Dartmouth-Hitchcock."
Montenegro describes her D-H care as "incredibly professional" and says she felt supported throughout the IVF process, "from the nurses in the Bedford clinic to Dr. Blanchette Porter and Dr. (Albert) Hsu." When Montenegro had trouble injecting the fertility medications into her stomach, she stopped in at the clinic for a refresher course. Marlene Grossman, RN, assisted her again while Montenegro recorded Grossman's instructions on her smartphone. "She was so nice and helpful," says Montenegro. "I really felt like we were their only patients at Dartmouth-Hitchcock. Obviously that's not true, but that's how we felt because of the level of personal attention we received."
When she was ready for the IVF procedure a month later, Frankie was able to watch the two embryos being injected into her uterus. "I was too busy praying; I had my eyes closed!" says Montenegro.
Nine months later their prayers were answered when their son Luca was born in February 2016. "He's such a joy," Montenegro says, adding that they froze two embryos in case IVF is needed again to conceive a sibling for Luca. "It was just a really positive experience and we're so happy! They're miracle workers. They're giving people like us a family."