Photography by

Mark Washburn

July 25th, 2016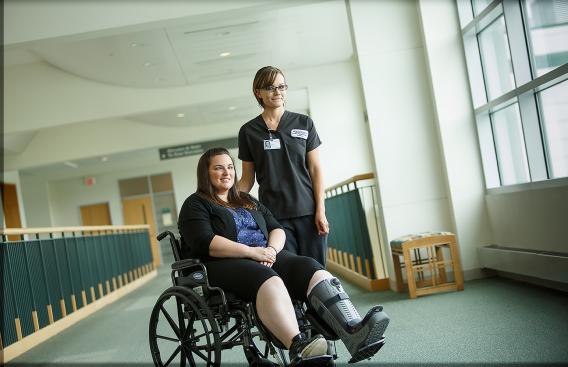 I really don't know if I would be here today if it wasn't for Colleen.
Sarah Freeman
On Saturday, May 21, 2016, a member of the Dartmouth-Hitchcock (D-H) Transportation staff, Colleen Elder, was on her way to work on Interstate 91 when the vehicle in front of her suddenly was flipping end over end through the air, after swerving to avoid a deer. The vehicle hit an embankment on the median, ejecting the driver, Sarah Freeman, from the vehicle. Elder didn't hesitate to stop and call 911. She used her basic life support training to comfort and care for Freeman, taking care not to move her, which turned out to be critical because she had suffered several severe injuries. Not long after, DHART arrived to airlift Freeman to Dartmouth-Hitchcock Medical Center where she was treated in the Intensive Care Unit (ICU).
This is an experience that Elder will never forget. Tears come very quickly when she remembers, "I didn't think she would survive." A couple of days later, she sought the proper channels to ask for permission to meet Freeman in the ICU. When she first met with the charge nurse to ask if she could check in on Freeman, the nurse immediately said, "Are you the one who was at the scene of the accident?" When Elder said yes the nurse exclaimed, "They have been looking for you! Yes! Yes! I will take you in!" As soon as the family was introduced to Elder they embraced her and kept thanking her repeatedly for her help, saying "If you had not been there and took control Sarah would not be alive today."
Freeman is now recovering well from her multiple injuries. She is about to learn if she can bear weight on her injured leg, which will be helpful so that she can keep up with her three-and-a-half-year-old son.
"I really don't know if I would be here today if it wasn't for Colleen. I'm beyond grateful that she stopped and knew what to do—she stayed with me. I can imagine it was very scary for her. I, luckily, don't remember any of it," Freeman says and adds, "I have since learned from a nurse who deals with accident victims like me that 95 percent of the time people are ejected from a vehicle they don't make it. And, 15 percent of people with a brain injury like I had don't make it to the hospital. The ones that do typically have a long-term brain injury." Freeman recognizes that she is a miracle story, due in large part to the kindness and caring of Colleen Elder.