Photography by

Mark Washburn

September 20th, 2016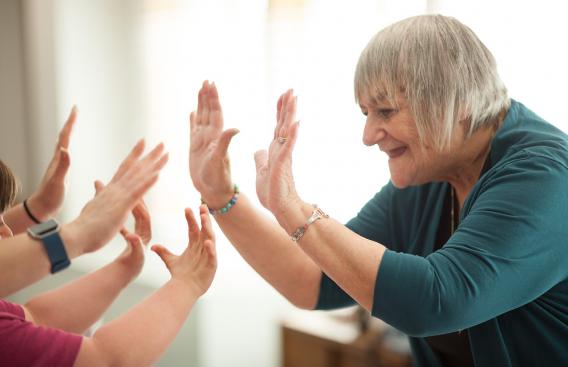 You've made it possible for me to show my craft students that the word cancer doesn't mean a death sentence.
Lynne Kupchick, Nashua, NH
My health care journey has been a long one. I've lived through numerous surgeries and treatments, the vast majority of which have been done at Dartmouth-Hitchcock (D-H) Nashua and Dartmouth-Hitchcock Medical Center (DHMC) in Lebanon. It all started out in my 20s when I was diagnosed with ulcerative colitis. To add to that, my first husband was horribly abusive and used to kick me in my stomach which I believe led to many of my health issues.
In 2001, Dr. [Jeffrey] Harnsberger, a colon and rectal surgeon at D-H, determined that it would be best to treat my ulcerative colitis by removing my colon and rectum. He added something called an ileoanal pouch to replace the missing portion of my intestinal system. After the surgery, Dr. Harnsberger sent the colon and rectum to DHMC where they found cancer in one of the lymph nodes.
After the colon surgery, I developed pneumonia and had to be put into a medically-induced coma for five days. It really scared my family. I did come out of it, and had chemotherapy treatments to be sure the cancer had not spread. I started my chemotherapy at Dartmouth-Hitchcock's Norris Cotton Cancer Center but I got sick after having only eight treatments instead of the 26 I was supposed to have.  Most weeks during my treatments I ended up in the hospital because of dehydration. Thankfully, the chemotherapy I did receive was effective because there was no reoccurrence of the colon cancer.
Then, in 2005, I had a hernia repair. Unfortunately, the mesh used for the surgery caused an infection. During that time Dr. Harnsberger referred me to Dr. Sutton, a general surgeon who has since retired from D-H, so that I could have the specialty care I needed. It was during this period that I got to know my doctors so well and was going to the Lebanon facility often. At one point, I was in bed for 30 days. I worked on crafts to keep myself occupied—knitting a scarf for every nurse on the unit because they were so fantastic. They took every opportunity to make me comfortable.
In 2012, there was another diagnosis, lymphoma. They told me I had to have chemo and I was scared because of what I had been through before. I met my oncologist at D-H Nashua, Dr. [Gerald] Gehr. He is the kindest, sweetest man. He and the nurses on his team put me at ease and I was able to get through my treatments, making jewelry while I had infusions. I still see Dr. Gehr to this day.
My health issues weren't over yet. In 2014, I found a lump in my throat. I went to my primary care doctor, Dr. [Leslie] Dionne at D-H Nashua, who confirmed it was something we should check out. Over the course of multiple appointments and ultrasound scans, doctors found two other lumps that were a result of thyroid cancer. I was not a happy camper. Dr. [Thomas] Colacchio, a wonderful surgeon from Lebanon who has recently retired, removed the tumors and thyroid to get me back on track again. As of today, I thank God that everything is out, fingers and toes crossed.
Today, I go to D-H Nashua regularly to see the nurses in the infusion room to get extra electrolytes and the nurses in Internal Medicine for B12 injections and other shots to keep me healthy. Their service and caring has amazed me—they repeatedly go above and beyond. They have been just as important to me as my doctors.
I've been teaching craft classes once a week over the past 10 years at The PLUS Company in Nashua. Their goal is to help adults with physical and/or mental disabilities transition out into society to live on their own or with someone. I wanted my students there to understand that if someone has cancer they aren't going to die. Throughout my treatments, they would pray for me and send me homemade cards. I've been doing things my whole life to help others because for so much of my life I couldn't help myself. I hate to see anyone abused because I was so badly abused in my first marriage. I want to help people advocate for themselves.
It gives me strength to see what my clients in my craft classes have to put up with to get through their days. I am gifted by their love, their smiles and their gratitude. There isn't a day that goes by that I don't have twelve of them hugging and kissing me when I walk through the door. I feel their warmth and caring – it's real.
I'd like to thank my doctors, nurses and all of the staff who have helped me over these many years. The caring staff you have at Dartmouth-Hitchcock and Norris Cotton Cancer Center is amazing. From young nurses talking to me about my ileostomy for the first time, to the physician assistant who gave me a hug when I broke down in tears, to Dr. Dionne who is the golden center of the wheel that keeps my care organized, to the kindness of Dr. Colacchio who always took the time to connect with me on a human-to-human level. You have all wowed me. You've made it possible for me to show my craft students that the word cancer doesn't mean a death sentence.