Photography by

Mark Washburn

October 21st, 2016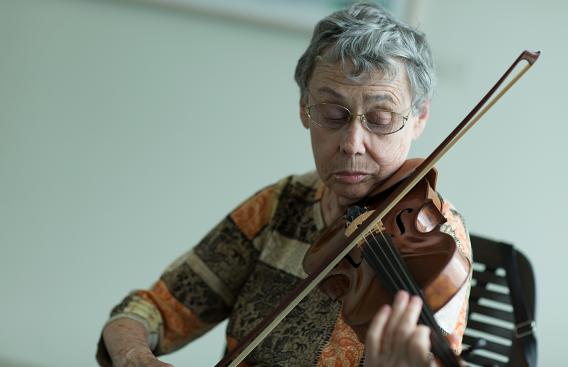 I can't imagine receiving any better treatment.
Rose Lander
I have been playing the violin since I was 4-years old. Over the years, I have been part of our regional opera company, and have played with college orchestras. Now, I organize quartet performances occasionally and have been teaching violin lessons to children for the last 50 years.
In January 2014, I was walking to my car in the driveway at our home in Massachusetts and took a hard fall on my shoulder. The local doctors saw that I had a humerus fracture, and told me that even if they operated that I would not get back to the full use of my arm. You can imagine my dismay at being told I would never play the violin again. To be able to recreate the music of the world's greatest geniuses has always given me joy, and to recreate it with others through teaching and as part of orchestral groups has even greater rewards. I can't imagine my life without the violin.
The orthopaedic doctors in Massachusetts didn't seem to have any solutions for me and my shoulder never healed. For over a year, I couldn't play my violin. Luckily, my rheumatologist suggested that a reverse shoulder replacement may be the best solution. He told me about Dr. John-Erik Bell at Dartmouth-Hitchcock Medical Center, an orthopaedic surgeon who specializes in the reverse shoulder replacement technique and teaches it to others. That sounded good to me.
When I met with Dr. Bell in the late spring of 2015, I knew he was exactly the right fit for me. He was confident that he could repair the humerus fracture as well as a rotator cuff tear I didn't realize that I had. He assured me that by having a reverse shoulder replacement I would likely have full use of my injured arm, my bow arm. Dr. Bell also mentioned that he plays the cello and both of his daughters play the violin so he has an appreciation and understanding of what is required of the bow arm when playing a string instrument. He gave me a level of confidence and comfort that I would eventually get to the level of function I needed to keep teaching.
After surgery, I had to keep my arm in a sling to immobilize it for a month. What astonished me was that I had no discomfort after the surgery – not an iota of pain. I was out of the sling in a little over two months and at my six month appointment, I had full range of motion in my shoulder, which Dr. Bell said was better than average. And, I could play my violin with the same finesse and endurance that I had before my fall.
Because of my excellent results following the surgery, I am back to teaching. I want the children I teach to love music, and feel good about who they are, that is why I enjoy teaching so much. I want them to be disciplined members of society and good learners who are confident in their abilities. Playing the violin is extraordinarily complicated. My students have to operate on such a high level from every perspective—their mental capacity, physical prowess and eventually, the emotional aspect. Playing the violin expresses the deepest part of the human soul. It is like human speech and can be a very powerful experience.
I'm grateful for finding Dr. Bell. He and Dartmouth-Hitchcock are amazing. I cannot say enough about the professionalism and the caring I experience each time I visit. I can't imagine receiving any better treatment. They have a level of expertise that is unsurpassed.