In This Section
Dr. Torrey Champions D-H Substance Use & Mental Health Initiative
By

Bonnie Barber

Photography by

Mark Washburn

April 27th, 2016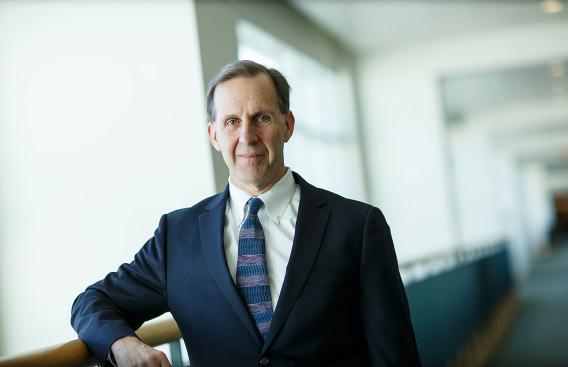 Substance use and mental health difficulties are painful, often disabling and sometimes deadly. They are also incredibly common...about 15 percent of the population develop a substance use disorder at some point in life.
It's been a busy six months for Will Torrey, MD. Torrey, a Professor of Psychiatry at Geisel School of Medicine and vice chair for clinical services for the Department of Psychiatry, was named in November 2015 clinical champion of the Dartmouth-Hitchcock (D-H) Substance Use and Mental Health Initiative. This initiative was established by the D-H Population Health Management Council (PHMC) last fall as part of D-H's overarching population health work being led by Robert A. Greene, MD, MHCDS, FACP, executive vice president and chief Population Health Management officer at D-H. Since assuming this new role, Torrey has overseen the formation of an substance use and mental health planning team, which has drafted a charter to guide their work over the next three years, as well as the creation of work groups focused on prevention, screening and treatment, sustained recovery, education and measurement.
The PHMC serves as the initiative's steering committee and outlined two guiding principles. "The first is a commitment to whole system redesign," says Sally Kraft, MD, MPH, vice president of Community Health at D-H. "Our work will involve individual patients and their families, frontline care teams and the organizations that are providing services, and community members and community organizations who can be our partners to improve care for mental health and substance use disorders. These may include community-based recovery organizations, law enforcement, schools and employers. The second guiding principle is a focus on the entire continuum of care from prevention, through screening, through treatment and to sustained recovery."
D-H Today recently spoke with Dr. Torrey to learn more about the D-H Substance Use and Mental Health Initiative, the role stigma plays in the suffering of people who experience mental health and substance use difficulties, and why he chose to make psychiatry his life's work.
Why did you want to get involved with the D-H Substance Use and Mental Health Initiative?
I have practiced psychiatry and overseen clinical care in this community since I came to Dartmouth to train in 1985. I worked for many years as medical director for West Central Behavioral Health, our department's community mental health affiliate, which has a strong population health mission. And for the last 12 years, I've had the privilege to work for Alan Green, MD, our department's chair, who was one of the people who inspired me to go into psychiatry when I was in medical school. 
My work is both exciting and frustrating. It's exciting because I get to see people get better when we are able to offer science-supported treatments and services. It's frustrating because funding structures make it very hard to offer enough service.  The need for care far outstrips what we and others are able to make available. We have done a great job expanding care in every way we can but the suffering from unmet need is extreme and intense. When the PHMC reviewed the Community Health Needs Assessment Survey for the entire Dartmouth-Hitchcock system they came to us in the Department of Psychiatry after identifying substance use and mental health difficulties as two of their four priority areas. We jumped at this opportunity – participating in an organized D-H effort to address these issues is exactly what we want to be doing.
What are some of the things the D-H Substance Use and Mental Health Initiative is hoping to tackle?
Dartmouth-Hitchcock is committed to improving the health of the population. We are starting by taking stock of the challenge, seeking partners and planning out our efforts. There are a lot of dedicated people and groups in the community who have been working on these topics for a long time—we want to identify them and seek to work with them. We have an amazing group of people at Geisel and D-H: excellent addiction and mental health clinicians and programs, internationally known mental health and addiction researchers, and Primary Care teams that are really skilled and motivated to address these concerns. Our Pain Management service, OB-Gyn service, emergency rooms, cancer programs and cardiology programs all care about this topic. So we have the ingredients and now we're getting organized. This is not a short-term project; this is a big topic. We are identifying steps we can take now but it will take a few years to realize our potential impact.
What are some important things for people to understand about substance use and mental health issues?
Substance use and mental health difficulties are painful, often disabling and sometimes deadly. They are also incredibly common. One in five women and one in 10 men will have a major depression in his or her lifetime; one in 100 people develop schizophrenia and one in 100 people lives with bipolar illness worldwide; and about 15 percent of the population develop a substance use disorder at some point in life. That is a lot of people. And each person has a circle of loved ones whose lives are also affected. It's important to understand that any room you go into with more than a few people in it will have someone whose life has been directly and substantially touched by substance use or mental health issues.
Mental health and substance use disorders are stigmatized disorders. On top of suffering from the illnesses, people also suffer from how they are treated just for having the illnesses. Stigma keeps people isolated. It often keeps people from talking about their life experiences, seeking help, and advocating for needed funding and services. Society would not stand for it if services for breast cancer, diabetes or heart disease were not readily available. With those conditions you call for help, the services exist and you get seen. But many people all around us develop potentially deadly treatable mental health and addictive illnesses and treatment just isn't available, which is outrageous. When it is you or your loved one, it is a terrible experience. But I do think that the stigma is beginning to decrease. This initiative and this interview are both signs of it lightening. It's getting a little better because some people are talking openly about their experiences with depression, bipolar illness or substances. People are describing their successful recovery journeys. It is particularly helpful when admired public figures speak openly about their experiences. But there's a huge way to go.
In terms of reducing stigma, do you think it's helpful to remind people that these are chronic conditions?
Yes. Most of health care is about helping people manage chronic vulnerabilities. People learn to manage the chronic difficulties they develop with their kidneys, their lungs and their painful backs. It's no different than managing vulnerability to an alcohol use disorder, or to depression, anxiety or psychosis. People need care that helps them develop knowledge, skills, confidence and an understanding of what they can do to care for themselves. People often think that addiction is willful misconduct, but it is clearly not as simple as that. Addiction is a disease - your genetics determine how vulnerable you are to it. People aren't asking or choosing to be addicted to substances, and people don't ask to have a mental illness any more than they ask to have cancer.
Part of what decreases stigma is finding screening and support for mental health and substance use difficulties from knowledgeable care-givers right in your primary care clinic as part of the regular flow of care. Twenty-five to 50 percent of people who visit primary care have a psychiatric difficulty. So we'll be working to find a way to ensure that the primary care teams are supported to offer this care. When people are suffering, we want to be able to offer care that addresses the conditions they have.
The need for treatment, especially for substance use disorders, has skyrocketed in the region. Why is this?
The great unmet need for alcohol and marijuana addiction treatment is not new and remains extremely important. But we are probably talking about this now because of opioids. The growth of opioid addiction has steeply increased in New Hampshire and Vermont and also across the nation. A lot of people get started with prescription opioids and become addicted. To stop withdrawal symptoms many go on to snort heroin because it costs so much less and snorting doesn't seem so bad. Then for some, the addiction draws them to injection use, again because of cost.  No one starts out with a desire to shoot heroin. And, people are dying, partly because they can't predict how strong the heroin is going to be. Heroin is also frequently combined with fentanyl (a potent synthetic opiate agonist), so people overdose. In the state of NH, the number of people who die from overdose increased. Last year, 420 people in New Hampshire died from drug overdoses, up from the previous record high of 326 in 2014 and 192 in 2013. This issue has affected so many people of all different income levels that it's become a visible political issue. People are scrambling to address it in a meaningful way.
Why is this an important aspect of population health?
Whenever anyone looks to improve population health, they quickly see the importance of addressing the unmet need in mental health and addiction. People are suffering and it is costly in human and financial terms.  When people who have general medical concerns, such as diabetes, also have depression, they do not do as well clinically and the cost of their care rises. There are also a lot of people who die of suicide. In NH, more than three people per week die of suicide. It is the eighth most common cause of death in NH and tenth most common nationwide. For people between the ages of 15 and 45 it is the second most common cause of death nationally. And, suicide has a lasting painful impact on the people around the person that dies in this way.
Available services are not adequate to meet the need.  For us, the reimbursement levels are so poor that if we hire a psychiatrist and keep him or her really busy billing in an out-patient fee-for-service insurance setting, the billing does not come close to covering the cost. We need to keep working on how to provide services in a sustainable manner – services and payment models both need to change. But funding isn't the only challenge. We need to recruit or develop the workforce to meet the need. Nationwide, for example, we have a severe shortage of psychiatrists - we have to keep the great psychiatrists we have and hire new ones. And other mental health and substance use professionals are in short supply as well.
For people and families who are in crisis right now, what advice do you have for them?
People should seek care. Many companies, including D-H and Dartmouth College have excellent Employment Assistance Programs (EAPs) that provide assessment, guidance, and access to resources. The Department of Psychiatry offers services locally at the medical center and at Hanover Psychiatry in Hanover.   Our Department also has some great clinicians in Keene but little service elsewhere in the D-H at this time.  Each region has a community mental health center that offers an array of services and there are many good private therapists and a great VA in our area. Psychology Today has a website that lists therapists and people can call their insurance companies to find out what local providers are in-network. In acute crisis, people can call DHMC Emergency Services at 800-556-6249, which operates 24/7, or go to the emergency room. But the hope is that we can help people get care sooner, before they are in crisis.
What addiction treatment does D-H offer?
With Dr. Green's advocacy and support from D-H and Geisel, our department created the D-H Addiction Treatment Program ten years ago.  This is now a vibrant clinical program in the Rivermill Complex in Lebanon, NH. We offer walk-in access so people can turn up and get help. Our addiction specialists run intensive outpatient programs, general outpatient addiction services, and medication-assisted recovery, including a buprenorphine program for people who become addicted to opioids. In addition, Sarah Akerman, MD, and Cathy Milliken, LICSW, MLADC, started the D-H Perinatal Addiction Program for women who are pregnant and addicted to opioids - that's a very busy program. Daisy Goodman, DNP, from OB is passionately engaged, providing OB care to the women in the program.
There's a huge demand for buprenorphine, a partial opioid receptor agonist that helps people in the process of recovering from opioid addiction.  There are many seeking access to that care, but the DEA has special rules about it. You have to take an eight-hour course to be certified to prescribe buprenorphine and then you're allowed to prescribe for 30 people. If you can demonstrate that you've had significant experience prescribing, then you can go up to 100 patients, but it's limited at 100. So as a doctor, even if you want to be helping people full-time with their addiction, you can't because you can only care for 100 people in total. There is a push to have this federal limit removed and to expand the rules to include nurse practitioners.
The Department of Psychiatry is slated to move from Geisel to D-H on July 1. What are your thoughts on this move?
I think the Department of Psychiatryhas had a wonderful experience at Geisel, where it's been for 56 years. Our chair and faculty have built extensive research programs, been rated highly for our medical student teaching, established very strong residencies and fellowships and psychology training, and been able to provide more and more care. My hope is that our department's current strengths will serve as a strong foundation, and that being integrated with the rest of health care in D-H will allow us to build from here. The slogan, "There is no health without mental health," states it simply. The work of our department is essential to D-H's mission of promoting population health. To that end, the Psychiatry Service Line is being welcomed into D-H as part of Population Health Management. So this is a big moment for our Department and D-H. I am excited to work with others to take advantage of the opportunity.  
How did you get into the field of psychiatry?
I didn't know anything about psychiatry when I went to medical school. I had explored rural primary care on a Tucker Foundation fellowship as a Dartmouth undergraduate and was intrigued. I went into medicine because I thought it would keep me interested and engaged for a full career, and would allow me to live in the country where I could grow raspberries and cross-country ski in my spare time. I ended up getting into Harvard Medical School where I met a lot of impressive people. I really liked the psychiatrists and found myself drawn to reading about depression, anxiety and schizophrenia.
While I was in medical school, a life-long friend hanged himself. It was really sad and still is for me. I knew he was having some difficulties when I saw him in the years after high school. His death made me think more about psychiatry. Going into psychiatry was not a common choice in my medical school class. I had to give myself permission do what I was interested in. And the death of my friend helped me to fully appreciate the importance of this work – it is life and death work. Our patients need good doctors. Psychiatry gives me a chance to use my whole self in my work.
I have been practicing psychiatry for more than 30 years. I wrote in a Christmas letter a few years ago, "Psychiatry has been a lot of things but it's never been boring." This work stays compelling over the long haul. I get to talk to people about parts of their lives that really matter. And it is incredibly satisfying. When we are able to offer the care that people need, they get better. People's lives often go from being terrible to being really good. It's just amazing to see.