Photography by

Mark Washburn

May 13th, 2016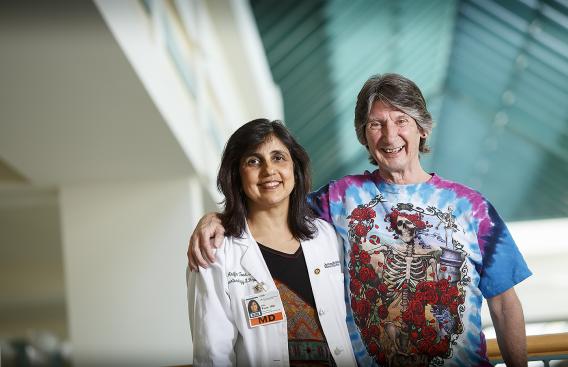 It is an exhilarating feeling to think about a new start.
Bob Tierney, Underhill, VT
In 1983 I decided to get sober. I was done with drugs and alcohol. By 1991, I was getting tired and depressed, which led to a diagnosis of Hepatitis C in 1994. Since that diagnosis, I have been living in a constant state of hopelessness. I had multiple treatments at another health care facility and became sicker with each one, eventually entering into stage four liver disease. My ascites [an abnormal accumulation of fluid in the abdomen caused by liver disease] went untreated, I had abrasions in my eyes and a chronic cough. I had so many tests and tried so many medications, which caused more side effects. I liked to call myself "the professional patient." I love people but I became a hermit and lost everything. I lost my house and my job as a substance abuse counselor. I lost all of the color out of my life. I was angry and bitter because I was fatigued and sore all the time. Even the music that I wrote to perform on my guitar started to turn angry. I laid on the couch and would ask God to send those to me that I had wronged so that I could ask their forgiveness. I thought it was the end.  
After three emergency room visits and no progress, I asked my primary care doctor for a referral to Dartmouth-Hitchcock. As soon as I saw Dr. [Arifa] Toor she said, 'You are not going home tonight.' She knew my ascites was the issue. That day she drew 18 pounds of fluid from me. She also performed an endoscopy a short time after to be sure there was not an obstruction somewhere and banded some varices [large varicose veins in the esophagus caused by liver disease that can rupture and bleed if left untreated] in my esophagus. Plus, she put me on Harvoni®—what I call a "miracle drug"—for six months, which relieved all of my symptoms. From that first visit, she knew I also needed to have surgery for a hernia in my stomach, which was done successfully, even though there was a risk I would end up in a coma or possibly not making it through surgery. From May 2015 until March 2016, I went from 123 pounds to 148 pounds. More recently, Dr. Toor is helping me to get my thyroid back in working order. Within four weeks I was able to gain seven pounds. My blood work results are almost in the normal range, I don't have itchy skin anymore, my sleep is sound and my memory is back.
Two months after starting on the Harvoni medication, I was walking a mile a day. I posted on Facebook that I felt like I was a miracle. I received a message from an old high school buddy of mine that I hadn't seen since 1973. He said he had a ticket for me—a ticket to the last ever Grateful Dead concert in Chicago. Words cannot describe the sentiments that we shared when we met up for that concert and enjoyed every song that we knew so well from the pit area on the 4th of July. His words to me were, "You have been having so many miracles lately that I just had to give you one more." He made me see that while going through a battle to get better we may lose many people who we thought were 'friends'. He knew intuitively when he read my Facebook posts before my treatment at Dartmouth-Hitchcock that I was saying goodbye. As I reflected on our visit, my own resentments toward others disappeared, and it helped ease my mind. I realized I had put too much energy into being negative and it had taken away my spirit to heal and think clearly—the very key that opens the doors to being kind, thoughtful of others and able to bring healing to oneself.
I feel like I have a second chance now. My wife and I are planning on moving to Arizona. It is an exhilarating feeling to think about a new start. I think about a phrase from a Grateful Dead song, "nothing ventured, nothing gained." The past is behind me now. Even trying to think about what I've been through, I'd rather tell a funny joke than dwell on the bad stuff. And, all of it has led me to Dartmouth-Hitchcock—a place where I've always been respected and I've had trust in the people I met. Thank you Dr. Toor­—we did it!