Photography by

Mark Washburn

August 20th, 2015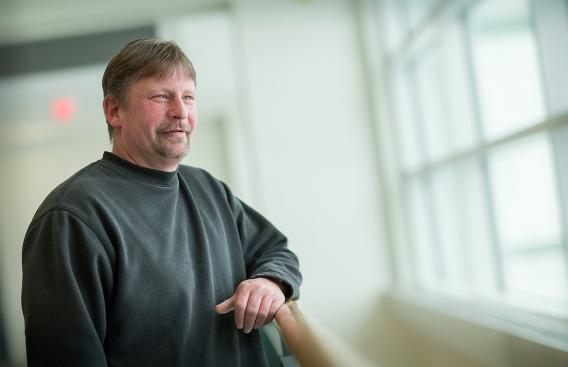 When Ronald Parshley was first told he had a possible heart condition, he didn't put much thought into it and continued to work two jobs—he thought he was bulletproof.
That was in 2006. In 2012, he began to notice shortness of breath completing basic tasks such as shoveling or walking up stairs, and decided to go to The Heart and Vascular Center at Dartmouth-Hitchcock Medical Center (DHMC) for evaluation of these symptoms.
"They were going to do a stress test but when the echocardiogram was done, they decided it wasn't safe to do the stress test—they wanted to keep me right here. I went to work the next morning and told my boss I might not be back. I was in the hospital soon after that," Parshley says. "They went in with a catheter through a vein in my leg to figure out what was going on. They took pictures and looked at pressures. I didn't understand everything but my lung artery pressure was in the 90s. I was experiencing a lack of oxygen. It was like I had no wind, no air."
Diagnosis: pulmonary arterial hypertension
Pulmonary arterial hypertension is a disease of the vessels in your lungs which limits blood flow. It is often fatal. As the vessels get smaller, blood can't pass through the lungs easily and this puts a strain on the right ventricle.
"When I left the hospital I had a tunneled catheter in my chest and a medication pump," he says. "My pump went at my side and I always had an extra line as well as a pump and medications that had to be chilled and available at all times. I had to mix and prepare my own medications in advance. I had to change the medications daily and the line every three days and re-prime it; it was quite a system. You couldn't put your clothes on and just go out the door—you had to make sure you had your medicines; had to think about what you were doing every day."
In October 2014, Parshley's care team introduced him to a medication just approved for oral use—Treprostinil—that took the place of his constant infusion IV medication, and greatly improved the quality of his life.
"I started the pill at the hospital, and they were looking for side effects. I had none, so they shut the pump down. I've been on the pills ever since—they've opened up another door for me," he says.
Parshley, 47, says it was hard for him to adjust to his diagnosis.
"There are days you don't cope with it, but I'm not going to stop doing whatever I can do. I'm not able to work anymore. I was a custodian at Dartmouth College for 10 years and you need to be able to pick up a certain amount of weight to do it, and I don't think I could," he says.
A heartfelt thank you to his care team
He says he is grateful for the care he had at D-H.
"I couldn't express my thanks enough through the questionnaire I was given—that's just a check-off list. Bruce Andrus, MD, Susan D'Anna, APRN, and the care team at D-H deserve more than that—a more in-depth thank-you. I don't know how to say it. If I hadn't come here, I can tell you I would have been in my grave. They kept me alive," Parshley says. "There are so many people to say thank-you to—from the people who give me blood draws, to the students, to the nurses, to the doctors."
Parshley has some advice for those that find themselves in a similar situation.
"Look for the positive. There is help out there and it is bearable. Your providers can make it worth being alive."