By

Heather Wolfe

September 26th, 2018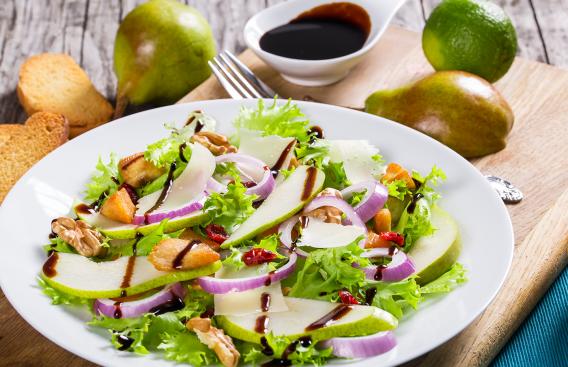 Serve this pear salad with dried cranberries, walnuts and homemade balsamic vinegar this fall.
Serves: 4
Ingredients
2 pears, sliced thin (Bartlett's work well, but any will do)
¼ cup dried cranberries
½ cup walnuts, chopped
2 ounces gorgonzola or shaved Parmesan cheese
5-6 cups or (1) 5-ounce bag of salad greens (spring mix, spinach, lettuce)
Balsamic dressing (store-bought or see below for make-your-own)
Homemade Balsamic Dressing
⅓ cup extra virgin olive oil
2 ½ tablespoon balsamic vinegar
1 tablespoon honey
1 teaspoon dijon mustard
1 ½ tablespoon finely diced shallot (or substitute onion with a pinch of garlic powder)
Salt and freshly ground black pepper to taste
Instructions
Wash greens and put into salad bowl along with sliced pears.
If serving immediately, toss with balsamic dressing (otherwise serve dressing on the side).
Top with dried cranberries, walnuts and cheese.
Nutrition (per serving)
325 Calories; 25 g Fat; 5 g Sat; 20 g Carbohydrates; 5 g Protein; 4 g Fiber; 156 mg Sodium
Heather's Healthy Hints
This is one of my favorite fall salads with pears, walnuts and cranberries. A little sprinkle of cheese goes a long way. I like using gorgonzola, but for a subtler taste try shaved Parmesan.
Download a PDF version of this salad.
Find more family-friendly recipes and healthy eating tips in the Cooking Up Health section of D-H Health and Wellness.
Heather Wolfe, MPH, RDN, LD, CHC, is one of the Live Well/Work Well health and wellness (Dartmouth-Hitchcock's employee wellness program) coaches specializing in nutrition.