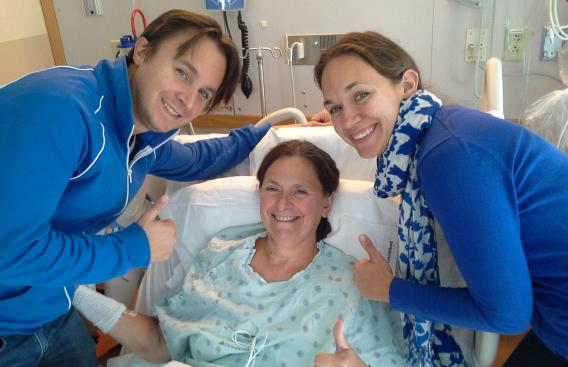 Susan Sullivan (center) with her two children during her stay at D-H.
Susan Sullivan suffered a heart attack at Loon Mountain in Lincoln, New Hampshire during the New Hampshire Highland Games in September of 2014. What follows is an excerpt from a letter her husband, John Sullivan, wrote in February 2015 to the staff at Dartmouth-Hitchcock with special kudos to those on duty at midnight on September 21, 2014:
It has been an up and down five-plus months since Susan's unfortunate incident. I have waited for a definitive point in her progress to write. Not a day goes by that I (we) are not thankful for your contribution to her resuscitation and recuperation.
What had been a great day of Celtic music and celebration at Loon Mountain, turned into a nightmare Saturday, as we headed to a special evening concert. From the time Susan went down at approximately 7:37 pm in the Loon parking lot, through the time I met up with her again Sunday at about 4 am at Dartmouth-Hitchcock in Lebanon, it was a gut-wrenching, nightmarish, roller coaster ride, that essentially did not slow down until she was eased from a drug-induced coma on Tuesday.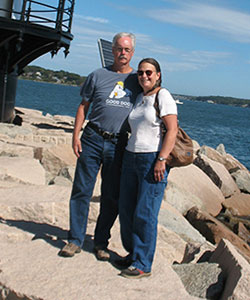 We are truly thankful for everyone who helped in the process, from the good Samaritans who immediately began CPR, the Loon Ski Patrol's response and use of their defibrillator, personnel from the Linwood Ambulance Service, transport by the Lincoln Fire Department, emergency care at Speare Memorial, air transport by DHART, general intensive care, and later cardiology intensive care at Dartmouth-Hitchcock. All your endless hours of training and drill paid off big time. Thanks to you all, we were able to celebrate our 43rd wedding anniversary in December.
Life is strange and sometimes unexplainable. Although upset that it happened, I am nonetheless grateful that it unfolded when and where it did. What if! What if it happened when I was out back cutting wood or grooming our woods trails? While she was out walking the trails trying to find me to come in for supper? While we were stopped and rocking mid-air, some 30' about the rocky cliffs, half way up Hunter Mountain in New York on our first ever ski lift chair ride in August? Even worse, what if it happened while climbing Mt. Kineo in the middle of Moosehead Lake in Maine?
Irony? It wasn't but a half hour before the fall and we were seated in Elviros on Route 112, a short jaunt from Loon, having a quick pizza before heading back to the evening concert, when we saw ambulances on two occasions. I said to Susan: "Too bad for those folks when we are having such a great time." Little did I know.
Since then, we have tried to get back to normal in between the numerous doctor visits, lab tests, heart tests, blood tests, monitors and the like. All has not been smooth, but Susan is improving in spirit and actions, has her color and appetite back, has resumed normal activity and is getting fine-tuned on her medications.
Her will is strong. I awoke the day that we returned from D-H to the sounds of the clothes washer going. Since then, I have had to rip a rake from her hand. Hiding the wood tote was to no avail as she then just curled the wood in the crook of her arms. She has resigned herself to shoveling small amounts of snow at a time.
We go on, thankful for every day as a gift from God. Similarly, we thank all of you for your part in delivering that gift.