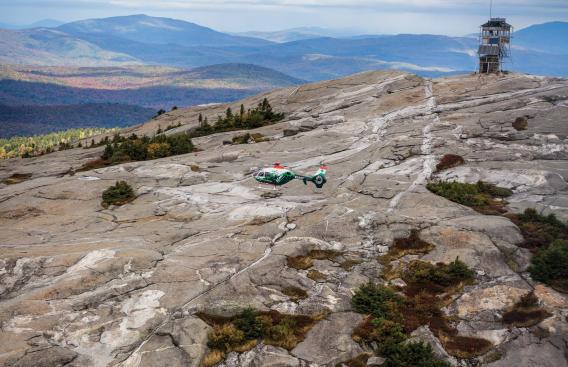 It remains one of Dr. Norm Yanofsky's favorite days—July 1, 1994, the first day of operation for the Dartmouth-Hitchcock Advance Response Team (DHART). "Nobody knew what to expect—we thought it might take two weeks to get our first air transport call," remembers Yanofsky, director of Emergency Medical Services (EMS) at Dartmouth-Hitchcock Medical Center (DHMC). "When I got to work at around 7:30 that morning, the crew had already gone out on a flight!"
By the end of that first day, DHART had received seven requests and completed five missions. It was an exhausting but exhilarating start for the program, which had taken several years to get off the ground. "But it confirmed that there was a real need for our services," says Yanofsky.
Growth and Expansion
Twenty years and more than 17,500 flights later, the program—which provides the only air ambulance service in New Hampshire and Vermont—has exceeded all early expectations and is now recognized as an essential service in northern New England.
The numbers are even more impressive when you include the ground ambulance unit, which has performed nearly 7,000 transports since it became part of DHART in 2001. All told, the program has transported more than 24,400 critically ill and injured adult, pediatric and neonatal patients to the closest trauma centers in the region's five states, travelling nearly 2.6 million miles.
When Mark Pippy joined DHART in 1994 as its original communications specialist, "we had about a dozen staff who shared a small space in the hospital, with one computer," he recalls. "Now, we have more than 60 personnel—including communications specialists, nurses, paramedics, respiratory care specialists, EMTs, pilots and mechanics—our own building and one of the most sophisticated communication centers in the country." A major step in the program's growth came in 2009, when it added a second helicopter (with a full-time crew), based at Manchester-Boston Regional Airport in Manchester, NH. "It allows us to better meet the needs of the larger population areas in the southern part of the state," explains Kyle Madigan, director of DHART. "We've also added a second ambulance in Lebanon."
Quality and Safety
Highly skilled care teams, trained to use the most advanced lifesaving techniques and equipment available, enable DHART to provide a service like few others in the U.S. Using two state-of-the-art EC-135 aircraft outfitted with the latest in-flight and medical technology, "we're able to bring the hospital to the patient, and continue that level of care until they arrive at the receiving hospital," says Madigan.
One example is a point-of-care testing device called iStat, which allows care teams to run lab samples in transit. Another is a video laryngoscope, which helps facilitate the placing of breathing tubes in patients. DHART also carries three liters of O-negative blood on all transports, to provide transfusions as needed. "And DHART ground teams provide the same level of service that we do by air," says Molly Bondurant, chief flight nurse. "There's no delineation between the level of care you would get from the helicopter or the ground unit."
To ensure air transports are as safe as possible, DHART pilots use state-of-the-art tools such as night vision goggles, a terrain and traffic awareness system, weather radar and rely on GPS to fly special instrument-approach procedures to hospitals when visibility is limited.
Working in partnership with Metro Aviation of Shreveport, LA, which provides its aviation services, DHART has earned multiple awards for its impeccable safety record. "In addition, over the last five years we've done something we're very proud of," says Madigan. "We were the first in the nation to develop what's called a low-level IFR (instrument flight rules) en-route structure, which allows us to fly directly to 30 hospitals in New Hampshire and Vermont in less than ideal weather conditions. In the past year, we've done almost 100 more transports because of the new system. This is key, since 85 percent of our flights are between facilities, and the other 15 percent being scene calls."
Making a Difference
Being part of a busy emergency medical response operation can be exhilarating, but it can also be extremely challenging, stressful, and at times, heart-breaking. What makes DHART team members want to come to work each day?
"We take care of the most sick and most badly injured patients, and to be able to help those people on a daily basis is incredibly rewarding," says Andrew Miller, a flight paramedic with DHART.
"I feel like I'm living my purpose by being able to positively impact other people's lives," says Bondurant.
"It's pretty neat to get to fly around New England in a helicopter," says Madigan, who worked for many years as a flight nurse before becoming an administrator. "But I think what makes you want to come back each and every day is making a difference in a person's life. It's being there in their most vulnerable time and doing whatever you can to positively affect their outcome on the other end."