Photography by

Mark Washburn

November 21st, 2014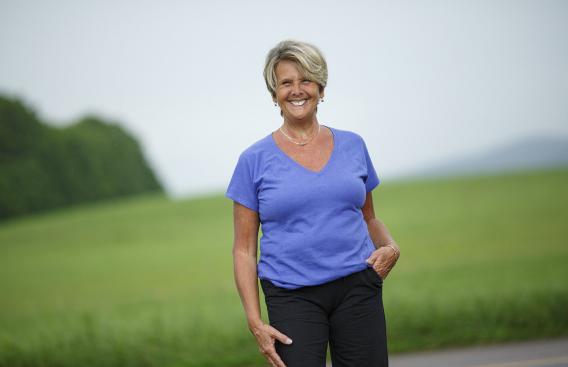 For a number of years, Bonnie Mercier suffered from episodes of pain down the side of her right leg. Initially diagnosed as sciatica — a common type of pain affecting the sciatic nerve, which extends from the lower back down through each leg — the condition got worse over time.
"It got to the point in the spring of 2012 where I couldn't walk more than a few yards without stopping because the pain was so excruciating," she recalls. "It almost ruined the Disney cruise that my husband and I took our granddaughter on for her 16th birthday. It took me forever to walk around the ship. They had to keep waiting up for me, and we had to sit down and take little rests."
Even after many other treatment options failed — including acupuncture, chiropractic care, massage therapy, physical therapy and pain injections — Mercier resisted having an  operation. "My mother had back surgery years ago and it pretty much paralyzed her, so I was very leery about it," she says. "Finally, I couldn't take it anymore. I said to my doctor, 'Send me to someone who can help me.'"
That someone was William Abdu, MD, at Dartmouth-Hitchcock's Spine Center. Mercier had a procedure called a "laminectomy and fusion" with Abdu in December of 2012. "I had a disc out of place that was pressing on the spinal nerves," she says. "Basically, he removed the material that was pinching the nerves. Then he used some rods and screws and a bone graft from my hip to put my disc back in place and make it stable again. As soon as I woke up from the procedure, I had immediate relief. The pain was gone."
Mercier is back to the active lifestyle that she enjoys. "I walk every day and I'm able to do everything I want without limitations," she says.
"My husband and I love Dr. Abdu," adds Mercier. "He was compassionate and very thorough. He spent a lot of time with us, explaining all the ins and outs of the procedure and the recovery process. That made such a difference. I couldn't be more pleased with how things turned out. I feel 10 years younger."
For more information about your spine health talk to your doctor.