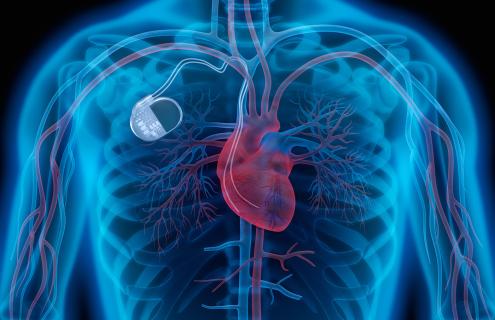 The Device Clinic at Dartmouth-Hitchcock's (D-H) Heart & Vascular Center is changing the landscape for cardiac technology and care delivery. With approximately 2,500 of its patients using cardiovascular implantable electronic devices (CIEDs)—including implantable cardioverter-defibrillators (ICDs) and pacemakers—the team has expanded the availability of innovative devices that improve patient outcomes.
Patients who need ICDs, which have leads that run through the veins to the heart, can now opt for less invasive subcutaneous ICDs (S-ICDs). The leads of these devices are simply implanted under the skin, so they are easier to remove and replace than traditional leads.
The D-H Device Clinic was one of the first centers in New England to use S-ICDS and leadless pacemakers. With a catheter, leadless pacemakers are implanted directly into the heart's right ventricle—eliminating the need for leads through the veins.                                                                                                                                           
Along with offering these advanced cardiac solutions, the D-H Device Clinic participates in clinical research that will further the development of cardiac technology. The team is also studying multi-chamber conduction system pacing, which can monitor and pace several chambers of the heart.
Improving the patient experience: remote cardiac care
A major success of the D-H Device Clinic is its ability to monitor CIEDs remotely—eliminating the need for patients across its Northern New England coverage area to travel for short, 20-minute check-ups. Instead, data collected by patient CIEDs can be transmitted remotely for review and follow-up care, and is automatically entered into patient electronic medical records. 
"Our Device Clinic team is very persistent, and we have found ways to work with patients who don't have a fixed landline or have poor cellular, data, or internet coverage at home," explained Rajbir S. Sangha, MD, electrophysiologist and D-H Device Clinic medical director. "Ninety-five percent of our patients participate in some type of at-home, remote monitoring, which places our program in the top 10 percent in the nation for remote monitoring."
While convenient for patients, remote cardiac monitoring also improves patient health. Led by Sangha, the D-H Device Clinic team includes two device technicians, a nurse, an associate provider and five attending electrophysiologists who perform regular CIED monitoring for every patient—an average of four times each year. This prevents delays in detecting any cardiac changes and diagnoses of other conditions. Patients can also contact the team anytime for CIED data review if concerned.
"Our patients know they're being followed closely and that their device can provide feedback on how they're doing," Sangha said. "We explain that we can check in automatically at certain intervals, and if they are having any problems, they can send information to us for analysis from home. In most cases, we can analyze the data and respond to their concern in a matter of hours."
Communication, flexibility lead to quality care
Safety is the top priority of the D-H Device Clinic, and open communication is central to its ability to deliver quality care. As part of this approach, the team developed a streamlined system to communicate with patients and their various health care providers when CIED manufacturers release updates. This includes safety advisories that may affect device performance.
"The system allows us to communicate with and reassure patients, arrange for appropriate follow-up care, and communicate with other healthcare providers—such as Emergency Department physicians, electrophysiologists, and cardiologists—that an advisory has been issued for the patient's device," Sangha said.
During the COVID-19 pandemic, D-H created a drive-through Device Clinic that allowed device technicians to safely check patients and adjust device settings if needed. The team also worked closely with the Emergency Department to launch a new system that enables remote device check-ups for any CIED patient being treated there.
For more information about the D-H Device Clinic's capabilities, visit https://www.dartmouth-hitchcock.org/heart-vascular/cardiac-electrophysiology.