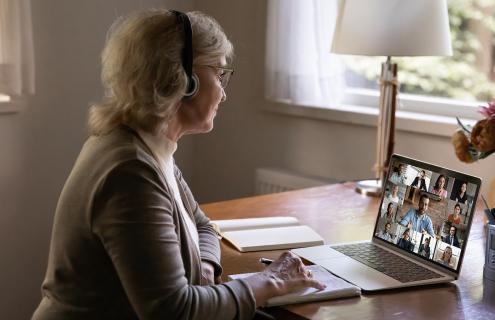 "This spring, when we seemed to be turning the corner on COVID-19, people started to feel hopeful," says Bernie Seifert, LICSW, social worker Geriatric Workforce Enhancement Program at the Dartmouth Centers for Health and Aging. "Then the Delta variant hit."
For many seniors who live alone or care for a partner on their own, the summer and fall surge of Delta variant infections and additional months of social distancing are taking a toll. A new Aging Resource Center program, "Let's Talk About it: Self-care During Anxious Times," aims to relieve isolation and offer support to participating seniors.
Designed as a virtual drop-in meeting, "Self-care During Anxious Times" offers older adults three, one-hour meetings for sharing their COVID-19 experiences, supporting one another, and collecting ideas and advice. "Each meeting has a limit of 12 people to make sure every participant has a chance to talk," says Seifert, who shares facilitator duties with Daniel S. Moran, APRN, senior implementation specialist, Geriatric Workforce Enhancement Program.
"We're there to break the ice and keep the conversation going through the quiet periods," says Moran. "We don't offer medical advice, but I do offer guidance or information. If a patient says they've been feeling depressed, I'll suggest they see their provider, and when someone asked about using light therapy during the colder, darker months, I explained light treatment as a therapy for Seasonal Affective Disorder ." When asked or if appropriate to the conversation, Seifert points participants toward local and statewide resources.
"This is meant to be an open conversation," says Seifert. "Participants are welcome to share anything that's important to them. It's important to talk to other people, hear their stories and realize you aren't alone."
"Several participants have mentioned missing grandchildren who they haven't seen in a couple of years," says Moran. "There's a big difference between a 3-year-old and a 5-year-old and they've missed seeing that growth. Besides applauding everyone for doing the right thing and staying home, we also shared ideas for staying in touch using Zoom or another platform."
Many participants are also mourning the loss of friends or, like everyone, learning to cope with what feels like a constant stream of bad news. "Every time we turn on the news, there's something else to worry about," says Seifert. "We've been recommending that people tune into the news for no more than 30 minutes each day."
New to the Aging Resource Center's event lineup, plans for additional "Self-care for Anxious Times" meetings are uncertain. "We're experimenting right now and need to see how it goes," says Seifert. "Participants have told us that the meetings are very helpful."
Visit Aging Resource Center to learn more about current programs and services.