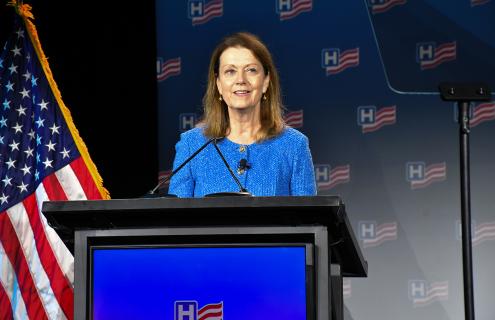 The American Hospital Association (AHA) Board of Trustees has elected Joanne M. Conroy, MD, CEO and President of Dartmouth Health, as its Chair-elect Designate. Conroy will be Chair-elect in 2023 and become the 2024 Chair of the AHA, the top-elected official of the national organization that represents America's hospitals and health systems and works to advance health in America.
"The American Hospital Association is a powerful force in leading and advocating for hospitals and health systems around our country and, by extension, the patients and communities we serve," said Conroy. "I'm deeply honored that my colleagues on the Board have elected me to serve as Chair, and I look forward to continuing to work with Rick Pollack and AHA team in achieving our vision of a just society of healthy communities, where all individuals reach their highest potential for health."
Since joining Dartmouth Health in 2017, Conroy's leadership and commitment to improving access to, and the quality of, health care in New Hampshire and Vermont, and improving patient experience while saving the system money, has transformed the academic health system, resulting in an improvement in all areas of operation at the nation's most rural academic health system.
Conroy has overseen significant changes across Dartmouth Health, including the undertaking of two major expansion projects, guiding the system through the challenges of the COVID-19 pandemic, and a strategic planning process that will guide the organization into the future and build upon its partnership with the world-class Geisel School of Medicine at Dartmouth.
Conroy is a co-founder of "Women of Impact," a nonpartisan group of 85 female healthcare leaders. She led Dartmouth Health in becoming an early signatory of the TIME'S UP Healthcare initiative to increase safety and gender equity in the health sector. In June 2022, Modern Healthcare named Conroy as of its "50 Most Influential Clinical Executives," and the magazine has named her among "100 Most Influential People in Healthcare" in 2018 and 2020.
The Dartmouth Health system includes 396-bed flagship Dartmouth Hitchcock Medical Center; four other system member hospitals and a home health agency; Dartmouth Cancer Center; Dartmouth Health Children's, including New Hampshire's only children's hospital; a multispecialty group practice employing more than 2,000 providers; and 24 ambulatory care clinics around New Hampshire and Vermont. Conroy is a member of the AHA Executive Committee, Operations Committee and chair of the Health Forum. She chaired the AHA Task Force on Primary Care in 2021.
For more information about the American Hospital Association, visit: www.aha.org
About Dartmouth Health
Dartmouth Health, New Hampshire's only academic health system and the state's largest private employer, serves patients across northern New England. Dartmouth Health provides access to more than 2,000 providers in almost every area of medicine, delivering care at its flagship hospital, Dartmouth Hitchcock Medical Center (DHMC) in Lebanon, NH, as well as across its wide network of hospitals, clinics and care facilities. DHMC is consistently named the #1 hospital in New Hampshire by U.S. News & World Report, and recognized for high performance in numerous clinical specialties and procedures. Dartmouth Health includes its Dartmouth Cancer Center, one of only 51 National Cancer Institute-designated Comprehensive Cancer Centers in the nation, and the only such center in northern New England; Dartmouth Health Children's, including the Children's Hospital at Dartmouth Hitchcock Medical Center, the state's only children's hospital and clinic locations around the region; member hospitals in Lebanon, Keene and New London, NH, and Windsor, VT, and Visiting Nurse and Hospice for Vermont and New Hampshire; and more than 24 clinics that provide ambulatory services across New Hampshire and Vermont. Through its historical partnership with Dartmouth and the Geisel School of Medicine, Dartmouth Health trains nearly 400 medical residents and fellows annually, and performs cutting-edge research and clinical trials recognized across the globe with Geisel and the White River Junction VA Medical Center in White River Junction, VT. Dartmouth Health and its more than 13,000 employees are deeply committed to serving the healthcare needs of everyone in our communities, and to providing each of our patients with exceptional, personal care.