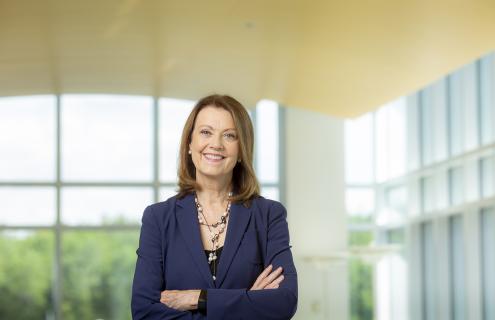 I'm always going to follow the science.
Joanne M. Conroy, MD
As she prepares to enter the fifth year of her tenure at Dartmouth-Hitchcock (D-H) and Dartmouth-Hitchcock Health (D-HH), and a second year of the COVID-19 pandemic, D-H and D-HH CEO and President Joanne M. Conroy, MD, has been named New Hampshire's 2021 Citizen of the Year by the New Hampshire Union Leader.
In a profile that appeared in its December 26 edition, the Union Leader wrote that Conroy has been "among the most influential voices in public health since the beginning of the pandemic, leading New Hampshire's largest hospital system and private employer  … while tackling some of the other most pressing issues facing New Hampshire." The newspaper praised Conroy for putting the interests of patients and staff first by being the first employer in the Granite State to require full vaccination as a condition of employment by D-HH. "I'm always going to follow the science," Conroy told the Union Leader.
In addition to her leadership through the COVID-19 pandemic, the profile also highlighted Conroy's other achievements and aspirations for the future of D-HH. The system and GraniteOne Health, the system that includes Manchester's Catholic Medical Center, Huggins Hospital in Wolfeboro and Monadnock Community Hospital in Peterborough, continue moving toward a combination agreement – a New Hampshire-based solution aimed at improving the access to, the quality of, and the value in care to people around the state. Conroy has also prioritized workforce development: in 2021, D-HH raised its minimum wage to $17 per hour, and Conroy shared with the Union Leader that D-HH is in the early stages of talking to developers about building permanent workforce housing in the Upper Valley, and her desire to increase the hours of operation for childcare provided to Dartmouth-Hitchcock Medical Center (DHMC) employees. The article also noted that Conroy pushed forward on a $150 million expansion of the DHMC campus in Lebanon, and that 2021 saw the expansion of D-H's Manchester outpatient clinic into an ambulatory surgery center, which opened in May.
Conroy has made open communication a hallmark of her leadership at D-H and D-HH, the article states, noting her weekly "Joanne's Journal" open letter to staff on a variety of topics. The piece also gives an insight to her personal life, from her earliest days in New Hampshire as an undergraduate student at Dartmouth College, to the loss of her husband to cancer at the very beginning of the pandemic, to how she makes time for herself – cooking, exercise and golf are key – to the two cats she shares her home with. It's important in these stressful times that everyone recognizes that these "little things" are so critical to maintaining a sense of normalcy, Conroy told the Union Leader.
"People should acknowledge that they feel that way," she said. "…We're all there. We all just need to take some deep breaths and realize we're going to get through this."
To read the New Hampshire Union Leader's full New Hampshire's Citizen of the Year profile on Conroy, click here.
About Dartmouth-Hitchcock
DARTMOUTH-HITCHCOCK HEALTH (D-HH), New Hampshire's only academic health system and the state's largest private employer, serves a population of 1.9 million across Northern New England. D-H provides access to more than 2,400 providers in almost every area of medicine, delivering care at its flagship hospital, Dartmouth-Hitchcock Medical Center (DHMC) in Lebanon, NH. DHMC was named in 2019 as the #1 hospital in New Hampshire by U.S. News & World Report, and recognized for high performance in 13 clinical specialties and procedures. Dartmouth-Hitchcock Health also includes the Norris Cotton Cancer Center, one of only 51 NCI-designated Comprehensive Cancer Centers in the nation; the Children's Hospital at Dartmouth-Hitchcock, the state's only children's hospital; affiliated member hospitals in Lebanon, Keene, and New London, NH, and Windsor, VT, and Visiting Nurse and Hospice for Vermont and New Hampshire; and 24 Dartmouth-Hitchcock clinics that provide ambulatory services across New Hampshire and Vermont. The D-H system trains nearly 400 residents and fellows annually, and performs world-class research, in partnership with the Geisel School of Medicine at Dartmouth and the White River Junction VA Medical Center in White River Junction, VT.