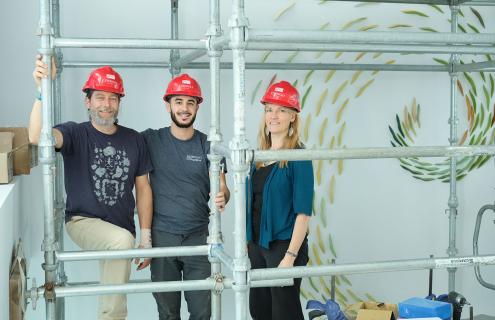 Research shows that the presence of art in healthcare settings has a positive impact on patients, visitors and employees alike. Dartmouth Health has long been at the forefront of incorporating art into its clinical facilities, stretching back to the days of the Mary Hitchcock Memorial Hospital in Hanover when volunteers wheeled an "art cart" around, letting patients choose artwork for their rooms.
The opening of the new Dartmouth Hitchcock Medical Center (DHMC) Patient Pavilion in May 2023 continues that leadership in tapping into the healing power of art.
"Art creates a warm, healing and welcoming environment," explains Marianne Barthel, director of DHMC's Arts and Humanities Program. "And we know it also has physiological and psychological impacts, like lowering stress hormones and increasing a sense of wellbeing."
Like other areas of DHMC's campus, the Patient Pavilion will feature works by local artists. "Transformation" is the title of the luminous wall panel in the main lobby; depicting a mountain scene with forest, hills and lakes, it was crafted by New Hampshire glass artist Caroline Parent of Eye Feast Art. "My inspiration comes from our varied, colorful, textural New England landscape," Parent says. "My hope is that this piece—made just for this niche at DHMC—gives patients, visitors and employees a place to engage, rest a few moments and enjoy the colors, shapes and light. I hope it evokes a sense of connection and discovery."
Parent says that she is "happy and honored" to have her artwork included in the Pavilion, noting a very personal connection. "Many years ago, as a child, I had surgery at DHMC to help correct a birth abnormality. I am grateful for the opportunity to make art for others to enjoy all these years later. It's a wonderful way for me to give back."
The expansive multi-story installation in the grand stairwell, called "Who Are You Beneath the Surface of Your Thoughts?," is by New Hampshire ceramicist Natalie Blake. "My original inspiration for the wall is the imagery of water and sound," she says. "What does sound look like if we could see it? How does water hold and carry the vibrations of sound? I chose the title to invite the viewer to consider what is underneath our busy minds—the movement and colors, the expansion and contraction, the motion, dance, play and spirit. I invite viewers to look at different sections each time they walk up the stairs to connect with different parts of the design."
The opening of the Patient Pavilion also provided an opportunity for Dartmouth Health to use art as a vehicle to make people feel more welcome. "Working closely with our Diversity, Equity, Inclusion and Belonging Team, we engaged with Vermont Native American artist Amy Hook-Therrien to create lovely watercolors of songbirds in  patient rooms," Barthel says.
"I so enjoyed working on the paintings," Hook-Therrien says. "I hope my paintings evoke peaceful blue-sky days that bring out songbirds as well as a sense of calm and tranquility. My intent was to help to elevate joy and create happiness."