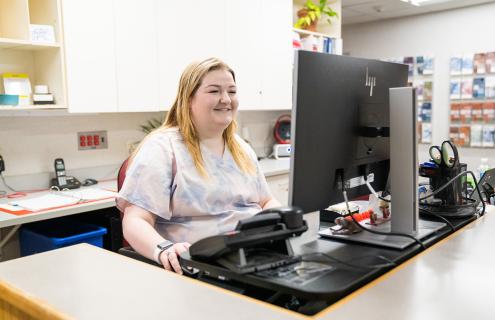 Through the Workforce Readiness Institute Apprenticeship Program and Colby-Sawyer's degree program, I got a start in healthcare and am even more sure that nursing is in my future.
Diana C. Beaulac
When Diana C. Beaulac, MA, worked as a secretary, she dreamed of being a nurse but finding the right academic program, enrolling in classes and completing prerequisites was daunting and expensive. "I didn't know how to get started," says Beaulac.
A collaboration between Dartmouth-Hitchcock Health's (D-HH) Workforce Readiness Institute (WRI) and Colby-Sawyer College in New London, NH, not only gave Beaulac a start on her nursing school prerequisites, but she was also able to complete her Medical Assistant Certification, begin a health care career at Dartmouth-Hitchcock (D-H) Manchester and earn an Associate in Health Sciences degree from Colby-Sawyer with minimal cost and being fully employed at D-H throughout her training.
Beaulac is the first D-HH employee to earn an Associate of Science in Health Sciences degree through the D-HH and Colby-Sawyer initiative to bridge healthcare certification and college education.  Accepted students are hired into one of three tracks—medical assistant, pharmacy technician or surgical technologist—then train for their certification in D-H's hands-on classrooms before completing their remaining degree requirements.
This fall, 32 students have enrolled in the program.
"Some of our new students already have college degrees but are seeking a change and are looking for a career that is more interesting or meaningful," says Jennifer Holl, MSN, RN, director of professional learning at the School of Nursing and Health Sciences. "Others do not have a college degree and are working toward greater financial stability and are excited about the possibility for career growth."
Each track begins with a D-H onsite WRI training program that includes classroom learning, hands-on technical skills and certification.
"Students then transition to their Department of Labor approved 2,000 hour registered apprenticeship," explains Holl.
During the first six months of the apprenticeship, students can begin the final courses needed to complete their Associate of Science in Health Sciences degree. Students work directly with an academic advisor who is focused on their growth and development and assists in course selection as well as transferring any previous college credits.
Stephen Toegel, a medical assistant apprentice at Cheshire Medical Center, is nearing completion of his associate's degree.
"It's a challenging program, but all the way through, the WRI team, the clinic staff, my practice managers, my co-workers, the providers, as well as other employees and leaders have been so very supportive," says Toegel. "They made sure I had the resources to be successful, and with D-HH's tuition reimbursement, there was no financial obstacle. I just had to do the work."
With an Associate of Science in Health Sciences under her belt and some nursing school prerequisites completed, Beaulac is starting to work toward a nursing school application. "Through the Workforce Readiness Institute Apprenticeship Program and Colby-Sawyer's degree program, I got a start in healthcare and am even more sure that nursing is in my future," says Beaulac. "I love being hands-on with patients, being there for them. It's beyond rewarding."