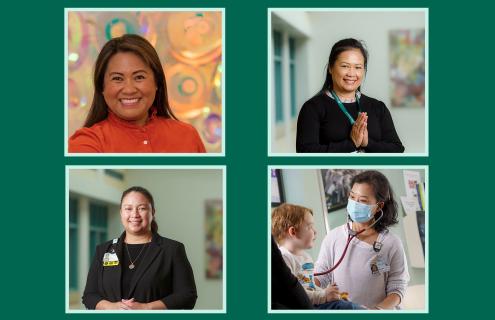 May is Asian American and Pacific Islander Heritage Month, and we are highlighting the work of our Asian American and Pacific Islander Employee Resource Group. This group provides a support network, promotes allyship and celebrates diversity among Asian American and Pacific Islander employees. Below, the co-organizers of the employee group share what Asian American and Pacific Islander Heritage Month means to them.
Julie Kim, section chief, Pediatric Hematology-Oncology, Dartmouth Hitchcock Medical Center and Dartmouth Hitchcock Clinics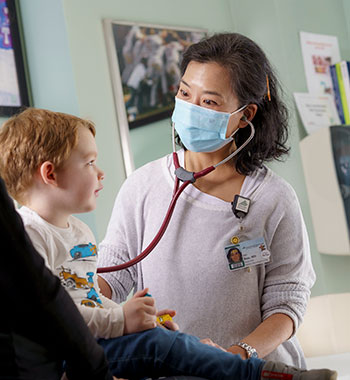 I grew up in West Virginia which remains the least diverse state in the country. As a child, I never thought anyone would celebrate my contribution to social diversity. This year, AAPI Heritage Month is more than just a celebration for me. By celebrating AAPI Heritage, we fight rising xenophobic rhetoric that has fueled anti-Asian sentiment and led to violence against Asians. I want my daughters, my parents and all of us to be confident in our safety. By celebrating, we fight the push for censorship in education and encourage intellectual discussion about the intersection of diversity and society. We want to freely teach others and learn from others about their diverse backgrounds and do this in their schools, their workplaces—everywhere. By celebrating, we fight long-standing stereotypes and declare our identity as one of the largest, fastest growing and most diverse demographic groups. By 2050, we are expected to be the largest minority group in the country. We are being recognized for awards, demanding increased representation and taking leadership positions. Each day should be a celebration of every single person's uniqueness and contribution to diversity. But until that happens implicitly, we need explicit reminders to celebrate and learn about lives outside the dominant culture. We need these reminders to recommit ourselves to promoting diversity, equity, inclusion and belonging initiatives.
Jennifer Orbeso, clinical nurse, Neotnatal Intensive Care Nursery, Dartmouth Hitchcock Medical Center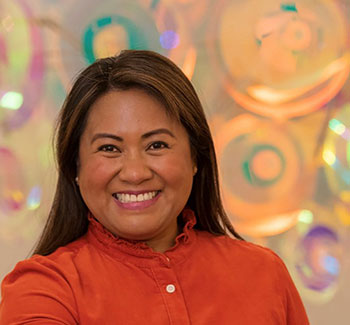 When you dive deeper, AAPI Heritage Month is actually a month of remembrance.  In the short span of 30 days, we remember the valuable contributions that AAPI people have brought to the country. I am a Filipino American. I come from a family of nurses who double as teachers, ministers and occasional bakers, karaoke singers or anything that promotes comfort and joy.  I have been a living witness of the friendships that bind Filipinos and Americans through thick and thin. I care for the most vulnerable patient population—premature babies—and I view my patients as extended family. The babies are like my nieces and nephews; caring for them is natural to me. I draw strength from the idea that patients are my family when I do my work as nursing diversity and inclusion specialist. I invite members of Dartmouth Health and northern New England communities to remember the critical impact and the symbolic significance of Asian American and Pacific Islander people in the areas of economics, politics, science, art and culture. This month means a lot to me because it speaks to the possibility that we can all live harmoniously and inclusively. "Mabuhay tayong lahat!" (Long live everyone!).
Ladda Marshall, manager Supply Chain Shared Services, Dartmouth Health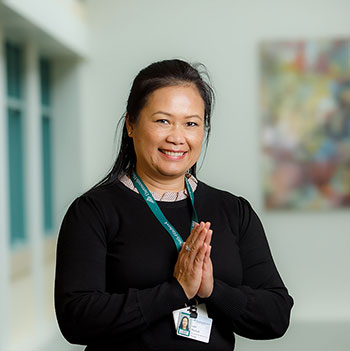 AAPI Heritage Month for me is a special month to celebrate the contributions that generations of AAPI people have made to American history, society and culture. Half of my life has been living in the United States and I am proud to call myself "Asian-American." I am a first generation immigrant from Thailand where I was born, grew up and graduated. Thailand is South East Asia's melting pot of diversity; we share the differences and way of life peacefully through compassion and kindness which is part of the culture that makes Thailand one of the most attractive destination to visit. I am grateful for the opportunity to be able to share not only "Thai food" but also the culture that helps me find peace and compassion through the practice of mindfulness like Yoga and meditation that I have been sharing with some of you this year and will continue to share as my contribution to our community to reflect the tradition of leadership, resilience and courage shown by previous generations of AAPI people. 
Anna Ivy Park, unit nurse manager, Hematology-Oncology Inpatient Unit, Dartmouth Hitchcock Medical Center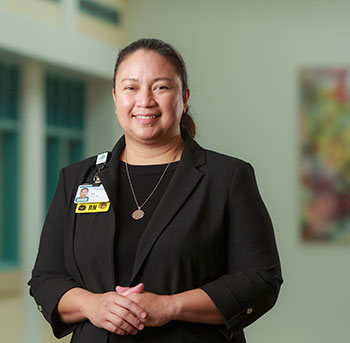 For me AAPI Heritage Month is about embracing diverse AAPI cultures that are thriving across the country. It is about acknowledging our contributions to our institutions, communities and nation. Moreover, it is for advocating for equity and safety at all levels of Dartmouth Health. As someone who has a multi-cultural household (my husband was born and raised in South Korea, while I was from the Philippines), I want our child to feel proud of our heritage and to grow confidently in this country of his birth, even though he may look different from the majority of the citizens. I believe that increasing awareness and education regarding the accomplishments and influences of AAPI people locally and across the world will help decrease the prejudice and misconception. That is why I invest time and effort in the work of diversity, equity, inclusion and belonging.