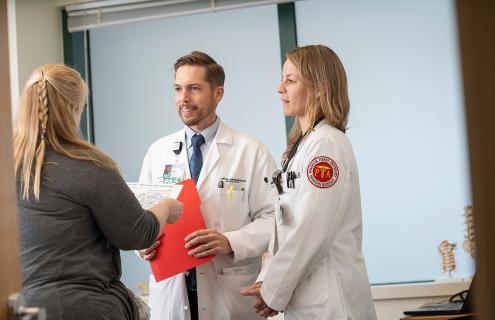 PAs have been an integral part of our healthcare team here at D-H for a long time, and we anticipate that role to continue to grow and expand as we seek to improve the health of our population.
Dorothy M. Mullaney, DNP, APRN, FAANP
Physician assistants (PA) have been caring for patients for more than 50 years, and there are 150,000 certified PAs practicing in the United States. Yet, their role is relatively unknown. First developed as a way to expand access to primary care by supplementing physicians in underserved communities, PAs now practice in every type of medical setting and specialty across healthcare. Today, they have become essential members in a team-care approach to providing quality patient care.
PAs are highly trained medical professionals who are educated in general medicine and practices under a sponsoring physician. Among a variety of tasks, they can serve as a principal care provider, make diagnoses, manage treatment plans and prescribe medications. The premise, however, is all about collaboration.
"The key is a partnership," says Mark H. Kiessling, PA, Cardiology. "We're bringing our knowledge and experience to our team and with experience, can practice to a high clinical level."
"I became a PA because I wanted to work in a team environment," says Ben C. Ames, PA, who works in the Emergency Department at Dartmouth-Hitchcock Medical Center (DHMC). "Everyone from the patient to the institution benefits from a team-based approach."
Needed education 
PAs are required to have a master's degree and graduate from an accredited PA program that, on average, lasts for two years. The programs typically include a year of instructional education and a year of internship. Once certified, they must complete 100 hours of continuing medical education every two years and recertify with an exam every 10 years. PAs can be licensed in all 50 states, Washington D.C. and at Veterans Administration facilities. 
Benefits of pursuing a PA degree
Kiessling's experience as a part-time firefighter/paramedic introduced him to the idea of becoming a PA. "I met a lot of PAs in the Emergency Department. I was able to see how they could fill various roles and be part of different procedures. They became role models," he says. 
Kiessling considered both medical school and PA programs, but what he found most appealing to becoming a PA was the ability to change specialties. "It's like being an apprentice. You have learned the basic skills, and then you learn your specialty from an expert in field," says Kiessling, who was a PA in emergency medicine for 20 years and has since transferred to electrophysiology, a subspecialty in Cardiology at Dartmouth-Hitchcock (D-H).
"I always knew I'd work in healthcare, and the flexibility is what drew me to the PA role," says Sarah W. Hughes, PA, who worked in primary care pediatrics in California and Colorado for 11 years prior to joining the section of Allergy & Clinical Immunology at D-H in 2020. "But I also really liked the collaborative approach," adds Hughes. 
PAs at D-H
D-H has been hiring PAs since the 1960s when the Geisel School of Medicine (then Dartmouth Medical School) had a PA training program called "MedEx." Today, there are 196 PAs between D-H Lebanon and the Community Group practice, with 105 at DHMC.
"PAs are fully integrated into the teams they practice with," says Dorothy M. Mullaney, DNP, APRN, FAANP, director, Advanced Practice Providers at D-H. "They're involved in the workflows of their section and help improve our patient access, which is huge."
"As partners to the physicians and the rest of the care team, we're 'force multipliers' expanding the ability to make an impact," says Kiessling. 
At D-H, PAs work in direct patient care, but they also serve roles in leadership, research and hold faculty positions at Dartmouth College and other institutions such as the Franklin Pierce University Physician Assistances program. They serve as clinical experience educators for PA students and are becoming leaders in educating PA candidates. The D-H Cardiothoracic Surgery Postgraduate Program is the first of its kind to be accredited by ARC-PA, the certifying body for PA residency programs. 
"The National Labor of Statistics states that 'the anticipated growth of PAs between 2018 and 2028 is 31 percent, versus the anticipated growth rate of physicians, which is 7 percent," says Mullaney. "PAs have been an integral part of our healthcare team here at D-H for a long time, and we anticipate that role to continue to grow and expand as we seek to improve the health of our population."