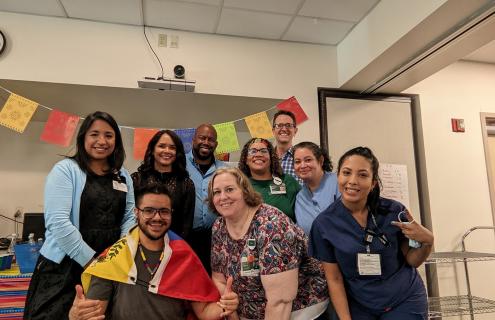 Hispanic Heritage Month is celebrated from September 15 to October 15.
According to hispanicheritagemonth.gov, the September 15 to October 15 timeframe corresponds to the anniversary of independence for the Latin American countries of Costa Rica, El Salvador, Guatemala, Honduras and Nicaragua (September 15), Mexico (September 16) and Chile (September 18), and includes Día de la Raza, "Race Day," a Mexican celebration of indigenous American and Spanish heritage, which falls on October 12.
As part of the month's celebrations, Dartmouth Health employees have shared what Hispanic Heritage Month means to them.
Carmen Casillas-Sweeney, clinical pharmacist, Dartmouth Hitchcock Clinics Manchester, co-organizer of the International Employee Resource Group
People often ask me about my origins. When I tell them I was born in Puerto Rico, most people proceed to tell me about their great friend from the island, and ask me if I know that person! This always makes me smile and brings warmth to my heart. It makes me happy to know so many people know first-hand of our fun and friendly ways.
Hispanic Heritage month is an opportunity to share what makes us stand out in a special way—whether it is our big contributions or the little things that make life better and more fun. I view this celebration as an invitation to celebrate our Spanish language, tasty food and vibrant music with others, as a way to foster acceptance and appreciation.
This yearly celebration also provides the opportunity take pride in the accomplishments that many Hispanic Americans have made in different fields, as well as encouraging and inspiring others to make their own mark in this great country. 
Angelica Ladd, External Affairs specialist, Dartmouth Hitchcock Medical Center and Dartmouth Hitchcock Clinics, Lebanon
I grew up in New Hampshire, but all my mother's family was in California. So I was disconnected from my heritage. My mother raised me on a steady diet of stories from her childhood when she and her siblings woke at dawn to pick vegetables and traveled back to the fields after a long day at school to pick until sundown. These stories ended with her telling me that she didn't want that life for me, and that's why she left.
Hispanic Heritage Month is my lifelong effort to reclaim my own heritage, to find the joy and love which is hidden under the surface of generational trauma.   
Blanca O'Leary, patient access specialist, Dartmouth Hitchcock Clinics, Manchester
Hispanic Heritage Month is a time for people to reflect upon the vibrant historical, cultural, social and societal influence of Hispanic and Latinx people within the U.S. and throughout the world. I am proud of my Costa Rican heritage and the many opportunities I have been given to live in the United States of America and be an ambassador for my country.