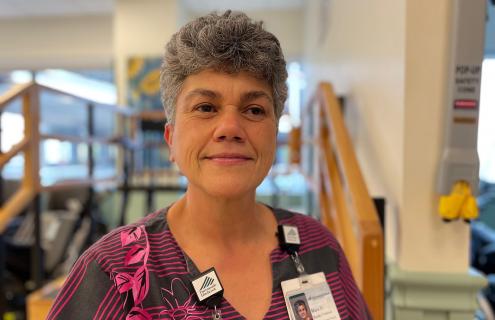 I very much enjoy working in an institution that is diverse in culture and backgrounds.
Maria J. Dolph
For Maria J. Dolph, a mobility tech who is originally from Colombia, the month of October reminds her of the significant contributions that Hispanic and Latinx individuals like herself have made, and continue to make, at Dartmouth-Hitchcock and across the country.
National Hispanic Heritage Month, which takes place from mid-September to mid-October each year, recognizes these contributions and the cultures of Central and South America, Mexico, Spain and the Caribbean.
Dolph, in her role as a mobility tech, helps patients move safely, as they recover and work with physical and occupational therapists as a second set of hands. From time to time, she even helps staff translate for patients who do not speak English.
"I have received great feedback from my supervisors, nurses, staff and patients about the important work I do," she says. "When I came to the United States from Colombia at 19, it was my dream to one day work in a hospital caring for patients. And though it took years of learning English and getting through difficult times, I achieved that goal."
During this month, Dolph celebrates her home country of Colombia's independence on October 20 by making traditional foods, dressing in traditional attire and dancing. With the use of technology, she also connects with family and friends in the U.S. and Colombia to celebrate, which helps her maintain fluency in Spanish.
"I look forward to continuing my work here at Dartmouth-Hitchcock as a proud member of the Hispanic and Latinx community," Dolph says. "I very much enjoy working in an institution that is diverse in culture and backgrounds."