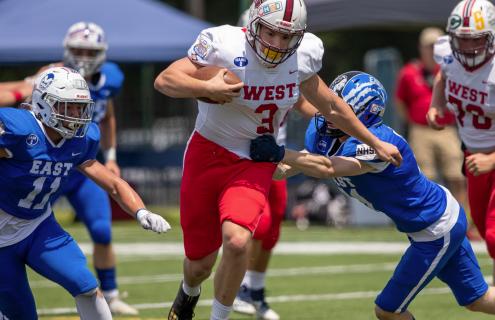 With the arrival of 2022, Children's Hospital at Dartmouth-Hitchcock (CHaD) is announcing the game date and rosters for the 2022 CHaD All-Star Football Game, powered by Bedford and Nashua Ambulatory Surgical Centers.
Over eighty of New Hampshire's best football players have been chosen to play one more game that will raise money for programs at CHaD that rely on philanthropy. The tenth edition of the East vs. West showdown is Saturday, June 25 at 1 p.m. at St. Anselm College, and each team will be represented by the head coach who led them on the field in 2021.
Team West is the defending champion, led by Souhegan head coach Robin Bowkett. West won in 2021, 29-6, behind the co-MVP performances of twin brothers Jeremy & Jarrett Henault (Goffstown). A total of 46 players will represent the western division of the state, including six from Goffstown, five combined from the two Nashua High Schools, and four from Merrimack.
Team East will be led again by Spaulding head coach Kevin Hebert, a CHaD parent who will be involved in the game for the sixth time. East is the team of champions as all four division titles were won by teams from the eastern region of the state. Division I champs Londonderry will send six players to the game. The Division II champs from Timberlane will send four players followed by three from Division III champion Pelham. The Division IV champion, Somersworth, will be represented by one Topper.
The players and coaches now begin a months-long journey to kick-off that culminates with a week of practice beginning June 16. The next step is a virtual orientation where they can learn about the game, how it benefits patients and families, and how they can support the cause with fundraising of their own.  They will also get to sit down with their coaches in the virtual setting to discuss additional on-field details.
Players are not required to fundraise in order to play in the game but they have generated over $610,00 since the game began, including $74,000 last summer. The 2021 game generated $210,000.
Fans can donate to the players on their individual fundraising pages at www.CHaDAllStarFootball.org. Sponsorship packages are also available to businesses and organizations who wish to support the cause. Tickets and viewing options are still under discussion and will be announced at a later date.
The complete roster and coaching staff for each team are on the attached pages.
About Dartmouth-Hitchcock Health
Dartmouth-Hitchcock Health (D-HH), New Hampshire's only academic health system and the state's largest private employer, serves a population of 1.9 million across northern New England. D-HH provides access to more than 2,000 providers in almost every area of medicine, delivering care at its flagship hospital, Dartmouth-Hitchcock Medical Center (DHMC) in Lebanon, NH. DHMC was named again in 2020 as the #1 hospital in New Hampshire by U.S. News & World Report, and recognized for high performance in 9 clinical specialties and procedures. Dartmouth-Hitchcock Health includes the Norris Cotton Cancer Center, one of only 51 NCI-designated Comprehensive Cancer Centers in the nation Children's Hospital at Dartmouth-Hitchcock, the state's only children's hospital; member hospitals in Lebanon, Keene, and New London, NH, and Windsor, VT, and Visiting Nurse and Hospice for Vermont and New Hampshire; and 24 Dartmouth-Hitchcock clinics that provide ambulatory services across New Hampshire and Vermont. The D-HH system trains nearly 400 residents and fellows annually, and performs world-class research, in partnership with the Geisel School of Medicine at Dartmouth and the White River Junction VA Medical Center in White River Junction, VT.
About CHaD
As New Hampshire's only full-service, comprehensive children's hospital, the Children's Hospital at Dartmouth‐Hitchcock (CHaD) is committed to providing outstanding compassionate care for children and their families. Their physician expertise provides primary, specialty, and tertiary care to the children of New Hampshire, Vermont, and beyond. CHaD offers inpatient (hospital care) and outpatient (same day care) services at Dartmouth‐Hitchcock Medical Center in Lebanon, NH. Outpatient and same-day surgery services are available at Dartmouth‐Hitchcock Manchester. Primary care is available at Dartmouth‐Hitchcock facilities in Bedford, Concord, Keene, Lebanon, Manchester, and Nashua, NH, and Bennington, VT. For more information about CHaD, please visit www.chadkids.org or contact us at 603-650‐KIDS or chad.community.relations@hitchcock.org.