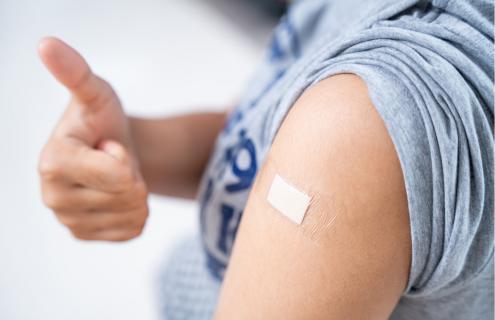 With the recent news from the Centers for Disease Control and Prevention (CDC) updating their guidance on mask use for individuals who are fully vaccinated, it is now more important than ever for everyone eligible to receive the COVID-19 vaccine.
The U.S. Food and Drug Administration granted Emergency Use Authorization (EUA) for the use of the Pfizer BioNTech COVID-19 vaccine for individuals ages 12 to 15 followed by the CDC's May 12 advisory panel's recommendation for the use of the vaccine for this age group. This next phase for vaccinations comes after Pfizer announced in March that clinical trials performed in this age group found "100 percent efficacy and robust antibody responses."
The surest way to protect children from the harmful effects of COVID-19 is to get them vaccinated. It's understandable, though, that many parents have questions. To address parents' questions and concerns, Paul Palumbo, MD, pediatric infectious disease physician at Children's Hospital at Dartmouth-Hitchcock, recently answered FAQ's in a live video update.
"There will be people who remain somewhat hesitant, I would encourage them to talk with professionals that you interact with in the health care community to come to the best decision that you can," said Palumbo. "There is a groundswell of support among professional organizations and advisory committees that provide great reassurance to move down this path aggressively."
A transcript of the video can be found HERE
About Dartmouth-Hitchcock Health
Dartmouth-Hitchcock Health (D-HH), New Hampshire's only academic health system and the state's largest private employer, serves a population of 1.9 million across northern New England. D-HH provides access to more than 2,000 providers in almost every area of medicine, delivering care at its flagship hospital, Dartmouth-Hitchcock Medical Center (DHMC) in Lebanon, NH. DHMC was named again in 2020 as the #1 hospital in New Hampshire by U.S. News & World Report, and recognized for high performance in 9 clinical specialties and procedures. Dartmouth-Hitchcock Health includes the Norris Cotton Cancer Center, one of only 51 NCI-designated Comprehensive Cancer Centers in the nation Children's Hospital at Dartmouth-Hitchcock, the state's only children's hospital; member hospitals in Lebanon, Keene, and New London, NH, and Windsor, VT, and Visiting Nurse and Hospice for Vermont and New Hampshire; and 24 Dartmouth-Hitchcock clinics that provide ambulatory services across New Hampshire and Vermont. The D-HH system trains nearly 400 residents and fellows annually, and performs world-class research, in partnership with the Geisel School of Medicine at Dartmouth and the White River Junction VA Medical Center in White River Junction, VT.