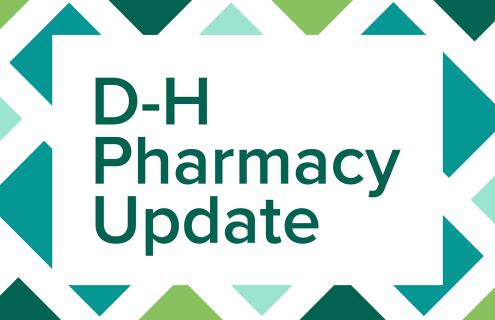 The D-H Pharmacy, located on Level 3 at Dartmouth-Hitchcock Medical Center (DHMC), will transition to processing home delivery prescriptions only and will be closed for all in-person transactions, including both prescription pick-up and over the counter (OTC) merchandise sales, effective the end of day on Thursday, December 23, 2021. Beginning December 24, 2021, all in-person prescription pick-ups and OTC sales will be handled by the D-H Pharmacy at Centerra, located at 12 Centerra Parkway, Lebanon.  
OTC selections and inventory have been increased at Centerra Pharmacy and vending machines with the most popular OTC items will be installed at DHMC at various locations in 2022. 
You are are encouraged to contact D-H Pharmacy Services at 603-653-3785 to transfer existing prescriptions to Centerra or to enroll in mail delivery services.