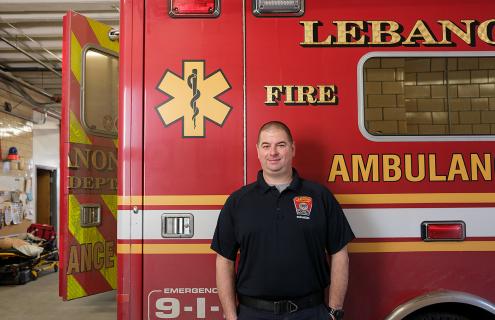 "The right care, at the right time, and the right place by the right person" is a mantra we've been using at Dartmouth-Hitchcock Health (D-HH) for years," says Population Health Vice President Sally Kraft, MD, MPH. When the right place for care is a patient's home, the right person to deliver that care might be a community paramedic.
"Our goal is to keep people healthy and out of the hospital," says Barbara G. Farnsworth, MS, director, Community Health Partnership. "In partnership with the City of Lebanon, New Hampshire, we're delivering in-home care for patients who have a chronic disease, need medication checks or have just been discharged from the hospital but don't qualify for a visiting nurse or other services."
The groundwork for the pilot began in 2019, and funding became available in January 2021. The first community paramedic, Jeremy Thibeault, MPA, a firefighter and paramedic for the City of Lebanon Fire Department, was hired in June 2021. Before he began seeing patients, Thibeault trained with Timothy E. Burdick, MD, Primary Care, and Thomas W. Trimarco, MD, Emergency Medicine, who are co-medical directors for the program at Dartmouth-Hitchcock (D-H).
Paramedics are primarily trained to deliver emergency care in pre-hospital settings. Their scope of practice is broad and includes blood draws, administering intravenous medication and monitoring vital signs. "We gave Jeremy a lot of training on top of the many skills he already has," says Trimarco. "To prepare him and others for community paramedic work, Dr. Burdick and I developed a curriculum that includes chronic disease management, pharmacology and pathophysiology."
Thibeault also learned how D-H works so he could coordinate with providers and services. Clinical rotations allowed him to gain experience in congestive heart failure, COPD (chronic obstructive pulmonary disease), wound and primary care. He also spent time in the Emergency Department (ED) and went on in-home calls with Visiting Nurse and Hospice for Vermont and New Hampshire.
"I began seeing patients in September of 2021," says Thibeault, who continues to answer emergency calls through the Lebanon Fire Department. "Referrals are picking up, and I've already seen as many patients in one month of 2022 as I did all last fall."
Individualized, preventative care
Primary care providers refer patients with chronic conditions or those who need support between appointments. Providers who discharge patients from the emergency or other hospital departments refer patients who are at risk for readmittance.
"Primary care patients often need coaching to improve their health but see their provider for only 20 minutes every two months," says Burdick. "We can't see the patient in their home. Is an arthritic patient able to safely climb stairs? Does a diabetic patient have the right food on hand? Jeremy gives us eyes in the patient home and is able to spend more time checking on safety conditions and medications and teaching how to do insulin checks."
A healthcare presence in the home also helps keep people who have been discharged from the hospital from returning. "If an older patient has come to the ED after a slip and fall, Jeremy can do a home safety check," says Trimarco. "When ED patients aren't sick enough to admit to the hospital, maybe they have a cellulitis or COPD exacerbation, he can follow-up with them at home to make sure they're making progress. And, wound care patients benefit from in-home bandage changes and instruction."
"Patients are more open in their own home," says Thibeault. "I can see the medications they're taking and how they're organized, look for safety risks and make sure their discharge instructions are being followed. I find all kinds of issues and communicate back to the referring provider so they can better help their patient."
When Thibeault receives a referral, he reaches out to the patient to make an appointment and describe what the visit will include. "I have direct communication back to the provider or case manager," says Thibeault. "We already have the technology for real-time interaction between a paramedic in the home and remote provider, which we can use as the service is built out."
Farnsworth, Thibeault, Burdick and Trimarco meet every week to review operations and patient cases and are collecting data to determine program effectiveness before planning expansion. "We'll measure non-emergency calls to make sure patients are referred to the community paramedic rather than calling 911," says Burdick. "We'll also be looking at the impact on readmittance numbers and measure patient satisfaction."
"The City of Lebanon has been a great partner in this work," says Farnsworth. "It's exciting to be able to deliver in-home care to patients who can really benefit."