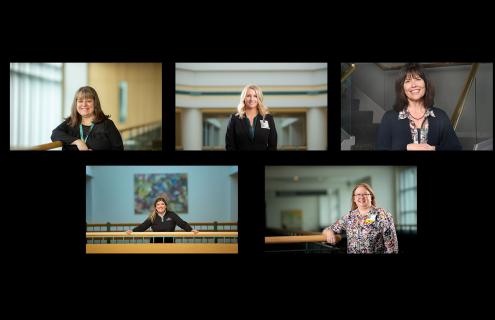 Though this year's award ceremony was virtual, it was incredibly important to celebrate the five James W. Varnum Quality Health Care Award honorees who have gone above and beyond during this difficult and challenging time.
The Varnum Award, supported by the James W. Varnum Quality Health Care Endowment, recognizes Dartmouth-Hitchcock (D-H) employees and volunteers whose work embodies a deep commitment to creating and sustaining an environment of high-quality care. The award is named for James Varnum, who was chief executive officer of Mary Hitchcock Memorial Hospital for 28 years.
This year's Varnum Award honorees are:
Annette Helms is the program coordinator for CHaD's Transitional Long-Term Care and Pediatric Complex Care programs. As program coordinator, she manages clinical care, acts as a primary liaison and works extensively with interpreters and cultural navigation services so families have the best experience. Helms has worked at D-H for 30 years, though she has been in her current role since 2013.
Laura Cogswell, nursing coordinator for Transitional Long-Term Care, wrote that Helms, "has been a faithful and consistent employee for more than 20 years."
Helms shared during the ceremony, "The services that administrative support staff provide are vitally important. My hope is that other support staff receive this award after me, as so many work tirelessly every single day."
Heather Steinmetz, BS, ASCP(MB) is the manager of the Clinical Genomics and Advanced Technology (CGAT) section of Pathology and Laboratory Medicine. In her 17 years at D-H, Steinmetz has driven the successful expansion of CGAT. Most recently, she has been leading the Pathology Department's response to COVID-19 testing for much of New Hampshire and parts of Vermont.
Steinmetz shared, "Everybody just rolled up their sleeves and did what they had to do to get the jobs done. It was pretty amazing, and it's not over."
"Heather is one of the most selfless people I know," said Gregory Tsongalis, PhD, vice chair for Research and CGAT director. "She is 100-percent committed to our laboratory operations, and has always put the patient first by holding staff to an unprecedented level of professionalism and performance."
Katelyn Darling, CMA, is the senior practice manager for Connected Care and has worked at D-H for seven years. In her role, Darling manages the day-to-day operation of D-H's telemedicine clinics and outpatient virtual visits for acute specialty services (teleneurology, telepsychiatry and teleICN) and ambulatory medicine. She also led the on-the-ground implementation of the broad and rapid expansion of outpatient telemedicine appointments for D-H patients in response to COVID-19.
Darling shared during the ceremony, "All of the programs made a huge transformation, and we were able to connect babies to their family members when they couldn't come to the hospital, which was huge."
Mary Lowry, administrative director of Connected Care, acknowledged Katelyn as a person who "gets things done" and is "highly valued as a leader."
Lisa Brown, RN, BSN, is a nursing supervisor for Occupational and Environmental Medicine. As a nursing supervisor, Brown oversees daily clinical operations and manages tasks such as employee pre-placement, immunization management, injury management, blood-borne events and medical triages. She has worked for D-H for 10 years.
"Lisa treats every employee that walks into our clinic with respect, consideration, privacy and concern," wrote Paul Boyle, practice manager for Occupational Medicine. "No problem is too small for Lisa to address, and she manages her team to do the same."
Brown shared during the ceremony, "I am who I am because of the team I work with."
Victoria Patric, MS, LSSBB, is the director of Quality and Safety for Ambulatory with the Value Institute. She leads and oversees a multitude of projects, both in the CGPs and across the system, and recently conceptualized the "COVID Recovery Road Map," which laid out the steps and issues to keep in mind when reopening clinics across the state.
Maria Padin, MD, recognized Patric as "a leader who leads with integrity" and "exhibits a loyalty and commitment to her fellow employees and patients."
On the topic of COVID-19 and the work her fellow honorees have been dedicated to since the pandemic began, Patric shared during the ceremony, "We're all rowing in the same direction. We really have made this as successful as it could be. We're able to get the work done because everyone is committed and working tirelessly, it's a real partnership. I'm proud to work at Dartmouth-Hitchcock."
To watch the recording of this year's virtual Varnum Awards ceremony, please click here.