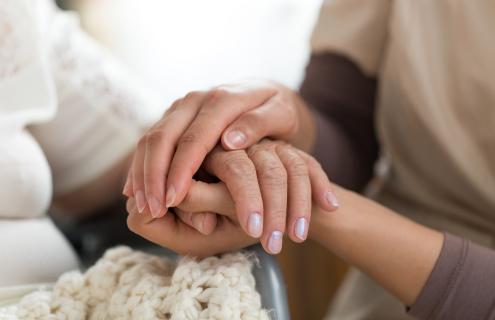 I value the ability to interact—read, post, connect—at any time. I have trouble sleeping some evenings but would not call someone during those hours.
ConnectCareShare member
The care and support that those with serious illness receive is not provided only behind hospital walls but also in their home and community. In fact, a recent AARP study showed that in a single year in the U.S., about 41 million care partners provide 34 billion hours of care, with an estimated unpaid value of $470 billion.
And yet, care partners of those with serious illness often feel alone in the experience.
Relatives, partners, friends and neighbors in a caregiving role face new challenges that can uproot daily life. Often care partners report feeling overwhelmed and unsure of how to cope with changing circumstances as the disease progresses and into the bereavement stage.
While acquaintances may offer well-meaning encouragement, care partners often don't have anyone who knows what this stressful time is truly like. And while support groups have always been available, care partners may not have time or ability to attend scheduled meetings or feel comfortable speaking face-to-face.
Making connections happen
A team of research, clinical and quality improvement experts from across the academic health system, together with patient and family partners, chaplaincy, volunteers and external advisors, have set out to connect care partners to each other and provide the resources they need and want during what can be a challenging time.
Working together as part of The Promise Partnership Learning Health System, the group developed a new online peer support network for active and bereaved care partners of those with serious illness.
One of four main evidence-based innovations under The Promise Partnership, ConnectShareCare is a moderated, secure, online network fostered by local community members and organizations in Vermont and New Hampshire. It is a safe place to connect and have conversations with people that may share similar experiences and a place to access trusted resources to support the journey.
ConnectShareCare has grown to almost 80 members since going live in May 2021 and continues to welcome new members.
It takes a village
Several Patient & Family Advisors have been essential in the building of this support network. Their ability to share their personal experience with serious illness has informed this work tremendously.
Real thoughts from ConnectCareShare members:
"I value the ability to interact—read, post, connect—at any time. I have trouble sleeping some evenings but would not call someone during those hours."
"I value the ability to ask questions of people who know the unique circumstances of caregiving or loss. Or answer others' questions with no pressure. Whether I go on the site daily or much less frequently, the space remains accessible."
"I trust the recommended resources such as books and websites because I trust the source they're coming from."
"Being a part of the team developing this tool proved to be very cathartic for me as I'd just lost my husband in late 2018. Having the chance to help others who've lost a loved one has been hugely rewarding," says Janet Miller Haines, who has been involved in the network co-design. "Search engines like Google give you facts in a matter of seconds. ConnectCareShare gives you responses from other people who can say, 'I've been where you are.' This is what helped me."
Beth O'Donnell, MPH, has served as ConnectShareCare Research Project Manager at The Dartmouth Institute for Health Policy & Clinical Practice since the beginning of the network's creation.
"The goal of the innovations under the Promise Partnership is that they not only improve the experience for patients and families but also improve the experience of providing this care for the clinical teams," says O'Donnell. "We want care partners to join ConnectShareCare, and we want providers and staff who support patients and their care partners to feel good knowing they have a proven, reliable support system to refer to."
Matthew M. Wilson, MD, a staff physician in Palliative Care and also a member of the co-design team, says having a solid data- and evidence-backed system like ConnectShareCare to refer patients and families to has been great for his team.
"Sometimes care partners benefit from the added trust of input that comes from personal experience. Both healthcare professionals and other care partners have valid input, and the combination of both provides richer guidance," says Wilson. "My hope for this project is that care partners can find help from each other, find community, and realize they are not alone—rather, they are surrounded by people who have the same challenges.
You are not alone
If you are caring for someone with serious illness, in bereavement, or know someone who is, please consider joining the ConnectShareCare community. Anyone who needs help from a supportive community, as well as those who can share their lived experience with others, are welcome.
To learn more and to join the community, please visit ConnectShareCare.org.
To learn more about the Promise Partnership, please visit: dartmouth.edu/coproduction/promisepartnership.