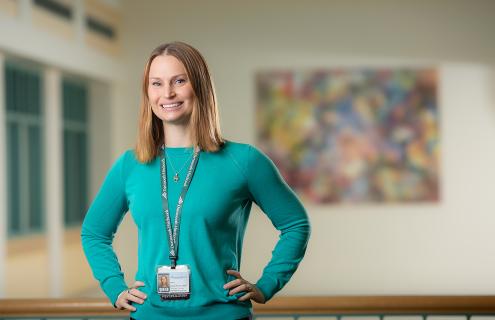 While we go about our daily lives, our brains are often "talking" with our guts. For example, the brain sends messages to the stomach about feeling hungry or full, when to make acid to digest food and when it's time to use the bathroom. The stomach responds with its own messages about digestion, which can include pain or sensations. This communication is called the "brain-gut connection."
Sometimes this connection doesn't quite work. The brain and gut may communicate too much, or the brain may misunderstand the gut's messages. To protect the body, the brain may send signals that something is dangerous—even when it isn't—based on signals it has already learned from the gut. This can result in worsening abdominal pain and anxiety and often happens to people with existing gastrointestinal (GI) conditions, including:
Irritable bowel syndrome (IBS).

Functional dyspepsia (stomach pain from indigestion with no clear cause).

Crohn's disease.

Chronic abdominal pain.

Chronic constipation.
These other conditions can also disrupt the brain-gut connection:
Illness.

Infection.

Lack of sleep.

Stress.

Strong negative emotions.
Jessica K. Salwen-Deremer, PhD, DBSM, Psychiatry and Medicine, Dartmouth Hitchcock Medical Center (DHMC), says that when the brain-gut connection is off, people may be on guard for GI symptoms. They may need to locate the bathroom wherever they go or may avoid eating at restaurants or taking part in activities.
"In an effort to protect their bodies, they're in survival mode," she says. "Their life can get a lot smaller and less enjoyable."
Unique, effective treatment
A solution exists to help GI patients better control and train the brain-gut connection: brain-gut behavior therapies. These evidenced-based treatments include short-term cognitive behavioral therapy (CBT) and hypnosis (deep relaxation) training. DHMC has one of the nation's few dedicated behavioral health programs as part of its GI team, led by psychologist Salwen-Deremer.
"This is not mental health treatment for anxiety or depression," explains Salwen-Deremer. "This is learning to live with GI conditions in a way that doesn't take over your life. My job is to help people respond to their GI signals without panicking."
By changing the ways people think about and respond to their symptoms, they can find more comfort and freedom in their daily lives. The GI Behavioral Health Program offers individual appointments at DHMC but is also successfully helping many more patients through its online group classes. Led by Salwen-Deremer, these classes focus on different topics, including:
Managing worry.

Managing emotions (related to medical procedures and fear).

Pain.

Relaxation skills.

Living with GI conditions.

Hypnosis (using deep relaxation to help the brain "turn down the volume" of the body's signals) – also led by DHMC nurse practitioners.
These GI Behavioral Health classes are organized in a short series of 4 to 7 virtual classes each and are billable to insurance. Participants may choose classes based on personal interest and must be existing DHMC GI patients who have referrals from their GI providers.
"Our GI providers have done an excellent job preparing patients for behavioral health and recognizing that it's an important part of care," Salwen-Deremer says. "Our patients are thrilled to have these opportunities to talk with providers about the connection between the gut and brain—and to find comfort among others going through the same things."
Visit Gastrointestinal Behavioral Health for more information and resources.