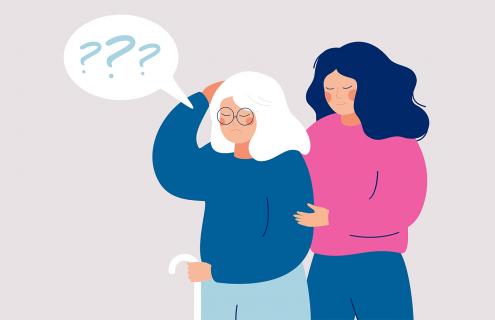 Dementia patients don't do well with change. Routine changes, including changes to COVID-19 routines, can increase agitation.
Daniel S. Stadler, MD
Thanks to COVID-19, the Aging Resource Center's dementia caregiver support group is in high-demand. "Our twice a month group now runs once a week and attendance has tripled," says Bernadette Seifert, LICSW, director of Adult Programs, Aging Resource Center.
Support group participation is directly related to the particular challenges COVID-19 poses for those with dementia, which is the loss of cognitive functioning, such as thinking, remembering and reasoning. Not only are people with dementia more at risk of contracting the virus, cognitive impairment makes following precaution guidelines difficult and frustrating and, in many cases, worsens decline.
"Dementia patients are more at risk for any illness," says Daniel S. Stadler, MD, medical director, Geriatrics. "When their brain is compromised, patients have less ability to delay gratification. They find it hard to, for example, eat less food or drink more water. Any illness increases their agitation and delirium delays healing." Susan Varga, MD, medical director, Geriatric Emergency Department, adds that many dementia patients live in nursing facilities which also increases their COVID-19 risk.
Suggested COVID-19 risk guidelines—hand washing, mask wearing and physical distancing, can be difficult for dementia patients to follow. "They are less likely to understand, remember and follow changes in guidelines," says Varga.
Following these guidelines can also increase dementia symptoms. "As dementia progresses, sensory pleasures, especially touch, are really important to communication," says Stadler. "The lack of stimulation that comes with physical distancing and isolation often increases frustration and anxiety," says Seifert. "Anxious dementia patients shadow, or follow, caregivers around the house. They might suffer Sundowner's Syndrome, which is increased agitation and confusion as the day goes on."
Seifert recommends that caregivers model COVID-19 precautions and ask dementia patients to join in. "You can say, 'Come wash your hands with me' or 'Let's put on our masks,'" says Seifert. "Keep explanations for why you're doing these tasks simple because you'll have to explain them over and over again." Video calls are one way to help ease the impact of social isolation but dementia patients need help and patience during them. "People on the call should speak slowly and give anyone with dementia time to speak." 
Vaccinations are a bright spot
Elderly dementia patients and their loved ones are finding relief through vaccinations. While the majority of patients living in a nursing facility or with a caregiver who can drive have received their vaccinations, delivery of vaccine to the homebound has been slow. To help speed the process for this population, the state of New Hampshire has prioritized the one-shot Johnson and Johnson vaccine.
While vaccinations offer physical protection, caregivers should not rush dementia patients back to pre-COVID-19 conditions. "Dementia patients don't do well with change," says Stadler. "Routine changes, including changes to COVID-19 routines, can increase agitation."
"Even with vaccinations, things can't be completely 'back to normal,'" says Seifert. "But vaccinations are making it possible for caregivers to bring dementia patients out a bit more which, after this long year, is really nice for both."