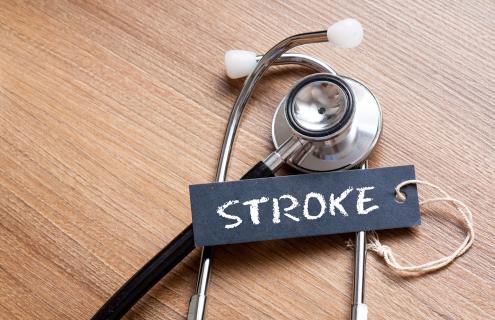 You may have heard news reports that people with COVID-19 have suffered serious strokes. It has occurred, but in very low numbers. According to a recent study published in JAMA Neurology, 1.6 percent of COVID-19 patients had a stroke. Overall, the data is very limited.
The association between COVID-19 and stroke is not fully understood at this time, but there may be a correlation with viral infections that cause inflammation in the body and blood clotting. Severe COVID-19 infection seems to affect multiple organ systems, including the cardiac system causing organ damage that might lead to stroke.  
It's important to remember that most people with COVID-19 do not suffer a stroke. According to Diana Rojas-Soto, MD, Neurology, none of the COVID-19 patients treated so far at Dartmouth-Hitchcock Medical Center experienced stroke related to viral infection. "What we did see were patients with stroke symptoms who didn't come in time," she explains. "Because of the delay in seeking care, they were not eligible for acute stroke therapies and their disability was greater."
Don't delay treatment
New England Comprehensive Stroke Center Collaborative
When COVID-19 emerged, the New England Comprehensive Stroke Center (CSC) Collaborative was formed as part of the American Stroke Association. This interconnected referral group of 13 regional hospitals—including Dartmouth-Hitchcock Health, Massachusetts General Hospital and the University of Vermont Medical Center—work together to treat acute stroke patients immediately, as every minute counts. No patient at a CSC with severely disabling stroke went untreated because of the pandemic, and this regional stroke treatment partnership will continue to ensure the safety of stroke patients.
Since the onset of the COVID-19 pandemic, people have neglected visiting hospitals and medical facilities—even with emergent symptoms—for fear of contracting COVID-19. Hospitals follow every precaution and have separate treatment areas for COVID-19 patients.
The American Heart Association explains, "It is safe for anyone to go to the hospital in an emergency." Stroke and heart attack are the top two causes of death worldwide, and someone in the U.S. will have a heart attack and another a stroke every 40 seconds.
With World Stroke Day approaching on October 29, everyone is urged to know the warning signs of stroke. Remember FAST: "F" for face drooping; "A" for arm weakness; "S" for speech difficulty and "T" for time to call 911. Numbness, vision changes and vertigo are other symptoms.
Stroke can affect anyone at any age, so prevention is key. Keep blood pressure and cholesterol in control, maintain a healthy weight and diet, exercise and don't smoke.
Continuing to follow COVID-19 prevention protocols is also a must. Wear masks, maintain physical distancing and wash hands often. If you don't contract COVID-19, you won't be at risk for other dangerous health complications.