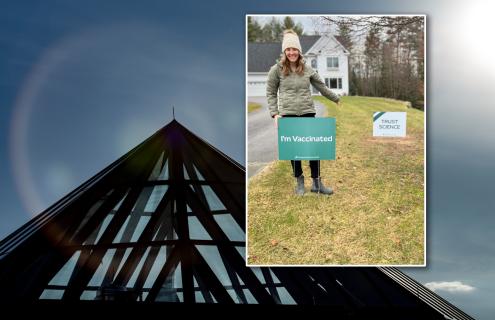 The goal of our vaccine education campaign and renewed focus on masking is to get correct information to people who have been fed misinformation about COVID-19.
Joanne M. Conroy, MD, CEO and President, Dartmouth-Hitchcock and Dartmouth-Hitchcock Health
Nearly two years into the COVID-19 pandemic, the situation around transmission of infections and hospitalizations has become dire. The number of patients with new COVID-19 infections admitted to Dartmouth-Hitchcock Health (D-HH) facilities has reached levels not previously seen, even in the early days of the pandemic. New Hampshire and Vermont are seeing the highest infection rates since tracking COVID-19 infections began in early 2020. The overwhelming majority of COVID-19 patients being admitted at D-HH facilities are those who have not been vaccinated against the virus. This is despite three highly effective, safe vaccines being readily available, free of charge, to all Americans over the age of five, as well as booster doses for all citizens over the age of 18.
"Widespread adoption of vaccines is the best – and truly the only – way out of the COVID-19 pandemic," said Carol L. Barsky, MD, MS, Chief Quality and Value Officer for D-HH. "We are all ready for this dark chapter of our history to end and no one more so than healthcare workers, who have sacrificed so much since March 2020. Science-based, factual information about the virus, vaccines, and how to protect ourselves, our loved ones and our communities is readily available from healthcare, governmental and academic organizations, as well as news media. Let's turn this crisis into a commitment to getting as many people vaccinated as possible and ending this pandemic."
As part of ongoing efforts to promote vaccination against COVID-19 in not only in the twin states, but regionally and nationally, D-HH has launched a vaccine education campaign to combat fear and misinformation surrounding vaccination, and encourage people from all walks of life to share why they decided to get vaccinated and why they would tell others to do the same. Components of the campaign include short videos made by "influencers" sharing why they getting vaccinated was a priority for them, and lawn signs and posters available for people to display at their homes or business promoting vaccination.
"As the only academic health system in New Hampshire as well as the largest provider of care in the state, we feel a responsibility as leaders in the space of public health in this state," said Joanne M. Conroy, MD, CEO and President of D-HH and Dartmouth-Hitchcock (D-H). "It's why we were the first health system in the Granite State to require vaccination against COVID-19 for all employees, and why our medical professionals have been looked to as subject-matter experts since day one of the pandemic. Masking, hand hygiene, physical distancing, and above all vaccination are the keys to ending the pandemic and getting back to our lives. Convincing a sufficient amount of the population to get vaccinated has been more challenging than anyone could have expected. The goal of our vaccine education campaign and renewed focus on masking is to get correct information to people who have been fed misinformation about COVID-19. They will hear from the people they trust most – the doctors and nurses at their local hospital, their friends and neighbors – about how critical it is for everyone to get vaccinated and to mask up. An all hands on deck approach is required for combatting the pandemic, and I look forward to seeing this important messaging shared around our region."
To learn more about COVID-19 vaccination from D-HH, visit https://www.dartmouth-hitchcock.org/covid19/vaccine-faq.
About Dartmouth-Hitchcock
DARTMOUTH-HITCHCOCK HEALTH (D-HH), New Hampshire's only academic health system and the state's largest private employer, serves a population of 1.9 million across Northern New England. D-H provides access to more than 2,400 providers in almost every area of medicine, delivering care at its flagship hospital, Dartmouth-Hitchcock Medical Center (DHMC) in Lebanon, NH. DHMC was named in 2019 as the #1 hospital in New Hampshire by U.S. News & World Report, and recognized for high performance in 13 clinical specialties and procedures. Dartmouth-Hitchcock Health also includes the Norris Cotton Cancer Center, one of only 51 NCI-designated Comprehensive Cancer Centers in the nation; the Children's Hospital at Dartmouth-Hitchcock, the state's only children's hospital; affiliated member hospitals in Lebanon, Keene, and New London, NH, and Windsor, VT, and Visiting Nurse and Hospice for Vermont and New Hampshire; and 24 Dartmouth-Hitchcock clinics that provide ambulatory services across New Hampshire and Vermont. The D-H system trains nearly 400 residents and fellows annually, and performs world-class research, in partnership with the Geisel School of Medicine at Dartmouth and the White River Junction VA Medical Center in White River Junction, VT.