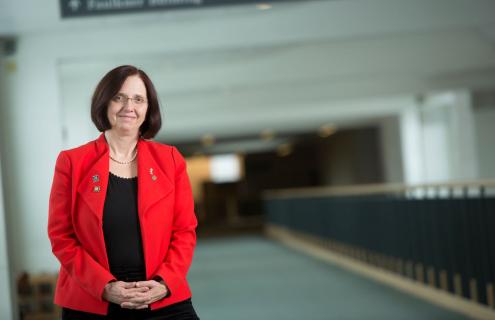 I am thrilled to be chosen as the next Neurology chair as I see it as an opportunity shape and educate the next generation of neurological researchers and physicians.
Barbara C. Jobst, MD, Dr. med
Dartmouth-Hitchcock (D-H) and the Geisel School of Medicine at Dartmouth have appointed Barbara C. Jobst, MD, Dr. med, as the new chair of the Department of Neurology for D-H and Geisel. Previously, Jobst served as vice chair of Neurology and section chief of Adult Neurology. She has directed the Epilepsy Center at D-H and is the Louis and Ruth Frank Professor of Neuroscience at Geisel. She succeeds Jeffrey A. Cohen, MD, who retired as department chair in January 2021. Jobst is the first woman to serve as chair of Neurology at D-H.
"I am thrilled to be chosen as the next Neurology chair as I see it as an opportunity shape and educate the next generation of neurological researchers and physicians," Jobst said. "It will be my job to make the department even more successful than it already is, and I am excited to work with my colleagues at D-H and Geisel to achieve that goal."
Jobst completed her medical training in her native Germany, along with a student exchange at Geisel in 1992, and has been with D-H since 1996. She has successfully grown the reach and impact of the Epilepsy Center regionally and nationally, and is the creator of the Home-Based Self-Management and Cognitive Training Changes Lives (HOBSCOTCH) program, developed at D-H, specifically for people with epilepsy and designed to help improve memory problems.  Her other work includes studying implanted brain stimulation devices that detect seizure activity in the brain and wirelessly transmit the information to a patient's neurologist for treatment. She also studied brain stimulation for memory improvement.
Jobst's many honors and awards include the Transforming Leader Fellowship Award from the American Academy of Neurology, the Lifetime Achievement Award of the Kniffin-Penry Award for Excellence in Epilepsy Care from the American Epilepsy Society, and the New Hampshire Tech Alliance's TechWomen/TechGirls Tech Professional of the Year Award.
"Barbara embodies the ultimate goal of physicians, which is to better the health and quality of life of our patients," said Dartmouth-Hitchcock Health (D-HH) Chief Clinical Officer Edward J. Merrens, MD. "Through her research and innovations, there have been marked improvements to the treatment of epilepsy and outcomes for people with the disorder. She inspires her colleagues at D-H to do and be better, and has put our epilepsy program on the map for the quality of care we provide. The Neurology Department overall will benefit greatly from her leadership and I look forward to its continued growth."
As Neurology chair, Jobst said she hopes to create a Brain Institute between D-H, Geisel and Dartmouth College, that brings neuroscience researchers together to study neuropsychiatric disease and develop innovative treatments for diseases such as stroke, epilepsy, Alzheimer's disease, amyotrophic lateral sclerosis (ALS), multiple sclerosis (MS) and others. Basic and translational research will inform clinical care.
"There's lots of groundbreaking brain research happening at D-H and Geisel that the public should know about," Jobst said. "As Neurology chair, I look forward to continuing to raise the profile of our department, by providing the best neurologic care possible and expanding the amount of research we do to improve people's lives."
About Dartmouth-Hitchcock Health
Dartmouth-Hitchcock Health (D-HH), New Hampshire's only academic health system and the state's largest private employer, serves a population of 1.9 million across northern New England. D-HH provides access to more than 2,000 providers in almost every area of medicine, delivering care at its flagship hospital, Dartmouth-Hitchcock Medical Center (DHMC) in Lebanon, NH. DHMC was named again in 2020 as the #1 hospital in New Hampshire by U.S. News & World Report, and recognized for high performance in 9 clinical specialties and procedures. Dartmouth-Hitchcock Health includes the Norris Cotton Cancer Center, one of only 51 NCI-designated Comprehensive Cancer Centers in the nation Children's Hospital at Dartmouth-Hitchcock, the state's only children's hospital; member hospitals in Lebanon, Keene, and New London, NH, and Windsor, VT, and Visiting Nurse and Hospice for Vermont and New Hampshire; and 24 Dartmouth-Hitchcock clinics that provide ambulatory services across New Hampshire and Vermont. The D-HH system trains nearly 400 residents and fellows annually, and performs world-class research, in partnership with the Geisel School of Medicine at Dartmouth and the White River Junction VA Medical Center in White River Junction, VT.
About the Geisel School of Medicine at Dartmouth
The Geisel School of Medicine at Dartmouth, founded in 1797, strives to improve the lives of the communities we serve through excellence in learning, discovery, and healing. The nation's fourth-oldest medical school, the Geisel School of Medicine has been home to many firsts in medical education, research and practice, including the discovery of the mechanism for how light resets biological clocks, creating the first multispecialty intensive care unit, the first comprehensive examination of U.S. health care cost variations (The Dartmouth Atlas), and the first Center for Health Care Delivery Science, which launched in 2010. As one of America's top medical schools, Dartmouth's Geisel School of Medicine is committed to training new generations of physician leaders who will help solve our most vexing challenges in health care.