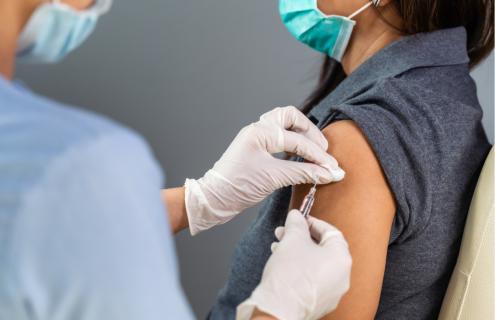 The Food and Drug Administration has endorsed Johnson & Johnson's single-dose COVID-19 vaccine for emergency use authorization. If approved, it will join the two-dose vaccines from Pfizer and Moderna currently on the market. In a new video update, Dartmouth-Hitchcock Medical Center (DHMC) Chief Quality Officer Michael S. Calderwood, MD, MPH, shares information about the efficacy of J&J's vaccine, its potential impact on the trajectory of the pandemic, and why you should feel safe and comfortable taking whichever manufacturer's vaccine becomes available to you first.
"The effectiveness of the Johnson & Johnson vaccine is actually 85 percent in the United States, South Africa and Brazil, including where they have some of these virus variants that have raised concern about lower efficacy of other vaccines," Calderwood said. "In terms of preventing severe illness or even death, this Johnson & Johnson vaccine is extremely effective, and it is effective against some variants that weren't studied when Moderna and Pfizer were doing their trials."
About Dartmouth-Hitchcock Health
Dartmouth-Hitchcock Health (D-HH), New Hampshire's only academic health system and the state's largest private employer, serves a population of 1.9 million across northern New England. D-HH provides access to more than 2,000 providers in almost every area of medicine, delivering care at its flagship hospital, Dartmouth-Hitchcock Medical Center (DHMC) in Lebanon, NH. DHMC was named again in 2020 as the #1 hospital in New Hampshire by U.S. News & World Report, and recognized for high performance in 9 clinical specialties and procedures. Dartmouth-Hitchcock Health includes the Norris Cotton Cancer Center, one of only 51 NCI-designated Comprehensive Cancer Centers in the nation; Children's Hospital at Dartmouth-Hitchcock, the state's only children's hospital; member hospitals in Lebanon, Keene, and New London, NH, and Windsor, VT, and Visiting Nurse and Hospice for Vermont and New Hampshire; and 24 Dartmouth-Hitchcock clinics that provide ambulatory services across New Hampshire and Vermont. The D-HH system trains nearly 400 residents and fellows annually, and performs world-class research, in partnership with the Geisel School of Medicine at Dartmouth and the White River Junction VA Medical Center in White River Junction, VT.