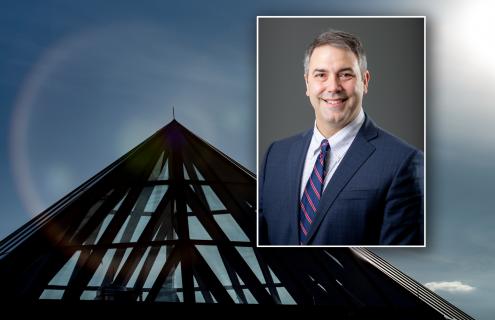 Dartmouth-Hitchcock (D-H) anesthesiologist Aaron J. Mancuso, MD, has been appointed to the D-H Board of Governors and Board of Trustees as a physician representative to the Boards. His term began on, June 1, 2021.
Mancuso joined D-H in 2014, and in 2015, became the Division Director of Thoracic Anesthesia. Clinically, Mancuso splits his time between the operating room and the Cardiovascular Critical Care Unit. Mancuso is also an Assistant Professor of Anesthesiology and Medicine at the Geisel School of Medicine.
The Board of Governors is a multidisciplinary group of individuals from across D-H who serve as the Medical Executive Committee of the D-H Professional Staff. They oversee the quality and safety of patient services delivered in the inpatient and ambulatory settings within Mary Hitchcock Memorial Hospital (MHMH) and Dartmouth-Hitchcock Clinic (DHC).
Mancuso graduated from the Creighton University School of Medicine in Omaha, NE, in 2009. He completed his residency training in the Department of Anesthesiology at Dartmouth-Hitchcock Medical Center (DHMC), where he served as Co-Chief Resident during his final year. He then completed fellowship training in adult cardiothoracic anesthesiology at Beth-Israel Deaconess Medical Center in Boston. Mancuso is board certified in anesthesiology and perioperative transesophageal echocardiography.
Mancuso is completing the term of Jonathan T. Huntington, MD, PhD, MPH, who vacated his term early to become Chief Medical Officer of DHMC. Mancuso will also serve on the Board of Trustees' Research & Education and Finance Committees. His term expires on December 31, 2022.
About Dartmouth-Hitchcock Health
Dartmouth-Hitchcock Health (D-HH), New Hampshire's only academic health system and the state's largest private employer, serves a population of 1.9 million across northern New England. D-HH provides access to more than 2,000 providers in almost every area of medicine, delivering care at its flagship hospital, Dartmouth-Hitchcock Medical Center (DHMC) in Lebanon, NH. DHMC was named again in 2020 as the #1 hospital in New Hampshire by U.S. News & World Report, and recognized for high performance in 9 clinical specialties and procedures. Dartmouth-Hitchcock Health includes the Norris Cotton Cancer Center, one of only 51 NCI-designated Comprehensive Cancer Centers in the nation Children's Hospital at Dartmouth-Hitchcock, the state's only children's hospital; member hospitals in Lebanon, Keene, and New London, NH, and Windsor, VT, and Visiting Nurse and Hospice for Vermont and New Hampshire; and 24 Dartmouth-Hitchcock clinics that provide ambulatory services across New Hampshire and Vermont. The D-HH system trains nearly 400 residents and fellows annually, and performs world-class research, in partnership with the Geisel School of Medicine at Dartmouth and the White River Junction VA Medical Center in White River Junction, VT.