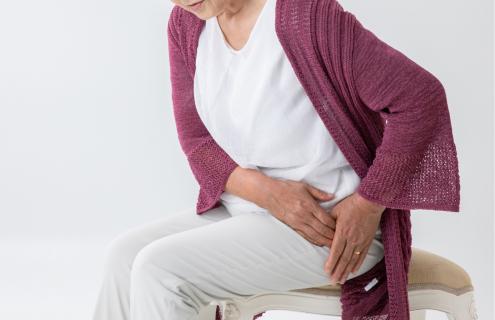 Osteoporosis is a bone condition usually seen in patients over 50 years of age, with one in two women and one in four men at risk of bone fractures. Osteoporosis, also known as thinning bones, has life-changing implications including pain and cost and can be fatal.
To promote bone health in Vermont and New Hampshire, which are the second- and third-oldest states respectively by median age, Ugis Gruntmanis, MD, a physician in the Endocrinology Section of the Department of Medicine at Dartmouth-Hitchcock (D-H), has secured grant funding to improve post-fracture care of patients with osteoporosis. Through the grant, D-H will alert all practitioners to look into the cause of fractures for all patients, especially those over 50, and provide treatment and education to reduce fracture risk.
"Fracture due to osteoporosis is a widespread issue. Twenty-five percent of women and 30 percent of men die within a year of fracturing a hip," said Gruntmanis, who is also a National Osteoporosis Foundation ambassador. "Many survivors are weaker, frail, and unable to perform activities of daily living, which necessitates at-home care or a move to a nursing facility. It can be emotionally taxing and financially expensive for patients and their families."
Human bones increase in strength until the age of 35 and can remain healthy for a lifetime with care and attention. "So, when a patient fractures an ankle by slipping off a curb or compresses a bone when lifting something heavy, we know they have osteoporosis. We're not talking about falling off a cliff but a fall from standing height or motion that bones should withstand," said Gruntmanis.
Smoking, anti-depressants, and aromatase inhibitor treatment (medications that stop estrogen production in postmenopausal women) can all lead to an increase of osteoporosis. Those who fracture a bone due to osteoporosis are at the highest risk for another fracture.
Gruntmanis' recommendation for reducing everyone's risk of osteoporosis is a simple recipe of calcium, vitamin D, and exercise.
"Calcium is essential for bone health. Women under 50 and men under 70 should get 1,000 mg of calcium every day. For women over 51 and men over 71, the calcium requirement increases to 1200 mg/day. Vitamin D (400 – 800 IU/day) helps with the absorption of calcium. Daily exercise stimulates bone-building structure and improves strength and balance," he said.
Bone density testing is recommended for all women over 65 and men over 70 years of age.
To learn more about healthy aging, visit the D-H Aging Resource Center website.
About Dartmouth-Hitchcock Health
Dartmouth-Hitchcock Health (D-HH), New Hampshire's only academic health system and the state's largest private employer, serves a population of 1.9 million across northern New England. D-HH provides access to more than 2,000 providers in almost every area of medicine, delivering care at its flagship hospital, Dartmouth-Hitchcock Medical Center (DHMC) in Lebanon, NH. DHMC was named again in 2020 as the #1 hospital in New Hampshire by U.S. News & World Report, and recognized for high performance in 9 clinical specialties and procedures. Dartmouth-Hitchcock Health includes the Norris Cotton Cancer Center, one of only 51 NCI-designated Comprehensive Cancer Centers in the nation Children's Hospital at Dartmouth-Hitchcock, the state's only children's hospital; member hospitals in Lebanon, Keene, and New London, NH, and Windsor, VT, and Visiting Nurse and Hospice for Vermont and New Hampshire; and 24 Dartmouth-Hitchcock clinics that provide ambulatory services across New Hampshire and Vermont. The D-HH system trains nearly 400 residents and fellows annually, and performs world-class research, in partnership with the Geisel School of Medicine at Dartmouth and the White River Junction VA Medical Center in White River Junction, VT.