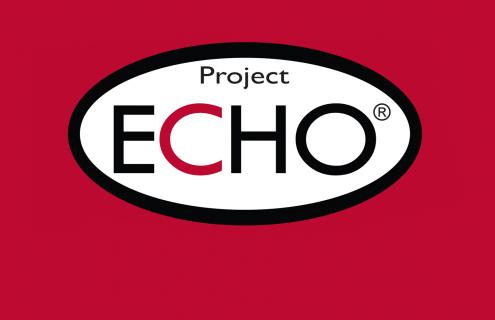 Project ECHO (Extension for Community Healthcare Outcomes) at Dartmouth-Hitchcock (D-H), in partnership with the JSI Research & Training Institute, Inc. and the New Hampshire Citizens Health Initiative at the University of New Hampshire Institute for Health Policy and Practice, have joined a national effort to stop the spread of COVID-19 in nursing care facilities. The Agency for Healthcare Research and Quality (AHRQ) ECHO National Nursing Home COVID-19 Action Network hosted a 16-week ECHO training program from November to March, bringing in regional experts to address adapting nursing homes needs and the rapidly changing circumstances in the field. A second, 15-session phase of the program will begin today, May 13, and run through August.
Topics covered during the first phase National Nursing Home COVID-19 Action Network included cleaning, personal protective equipment, COVID-19 vaccine rollout and hesitancy, managing outbreaks, support staff emotionally, social isolation, community transmission, advanced care planning, preparing for visitation, leadership and communication. The goals of the program are:
Keeping the virus out of nursing homes;

Early identification of residents and staff who have been infected;

Preventing the spread of the virus between staff, residents and visitors;

Providing safe, appropriate care to residents with mild and asymptomatic cases;

Ensuring nursing home staff have the knowledge, skills, and confidence to implement best-practice safety measures to protect residents and themselves; and

Reducing social isolation for residents, families, and staff during these difficult times.
"Individuals caring for older adults in nursing homes, during the COVID-19 pandemic, are our national heroes," said Ellen Flaherty, PhD, APRN, AGSF, Director of the Dartmouth Centers for Health & Aging. "Their extraordinary efforts to provide the very best care, especially in the context of extreme workforce shortages, is beyond the call of duty and it has been an honor to support their work through this ECHO."

"Nursing homes bore an outsized impact in the early COVID-19 pandemic, and the experience deeply challenged them, personally and professionally," said Margaret Franckhauser, RN, MS, MPH, Director of Aging Services for JSI. "This project has given nursing home staff a safe place to learn, to share and to reimagine processes and systems for the future. This new phase of the project continues that dialogue in a dynamic fashion as participants will discuss emerging information about vaccines, the virus and the eventual creation of a new normal. The ECHO model of 'All Teach/All Learn' has proven to be a rich environment for learning in the ever-changing environment of a pandemic."
"UNH was honored to join with our partners to create a space for the dedicated professionals in the northern New England nursing home community to teach, learn, and support each other during the most difficult of times," said Laura Davie, Director of Long-term Care and Aging at the Institute for Health Policy and Practice, and Co-Director of the Center on Aging and Community Living, at UNH.
To learn more about Project ECHO, visit https://www.dartmouth-hitchcock.org/project-echo.
This project was funded under Contract No. 75Q80120C00003 from AHRQ, U.S. Department of Health and Human Services (HHS). The authors of this document are responsible for its content. The content does not necessarily represent the official views of or imply endorsement by AHRQ or HHS.
About Dartmouth-Hitchcock Health
Dartmouth-Hitchcock Health (D-HH), New Hampshire's only academic health system and the state's largest private employer, serves a population of 1.9 million across northern New England. D-HH provides access to more than 2,000 providers in almost every area of medicine, delivering care at its flagship hospital, Dartmouth-Hitchcock Medical Center (DHMC) in Lebanon, NH. DHMC was named again in 2020 as the #1 hospital in New Hampshire by U.S. News & World Report, and recognized for high performance in 9 clinical specialties and procedures. Dartmouth-Hitchcock Health includes the Norris Cotton Cancer Center, one of only 51 NCI-designated Comprehensive Cancer Centers in the nation Children's Hospital at Dartmouth-Hitchcock, the state's only children's hospital; member hospitals in Lebanon, Keene, and New London, NH, and Windsor, VT, and Visiting Nurse and Hospice for Vermont and New Hampshire; and 24 Dartmouth-Hitchcock clinics that provide ambulatory services across New Hampshire and Vermont. The D-HH system trains nearly 400 residents and fellows annually, and performs world-class research, in partnership with the Geisel School of Medicine at Dartmouth and the White River Junction VA Medical Center in White River Junction, VT.