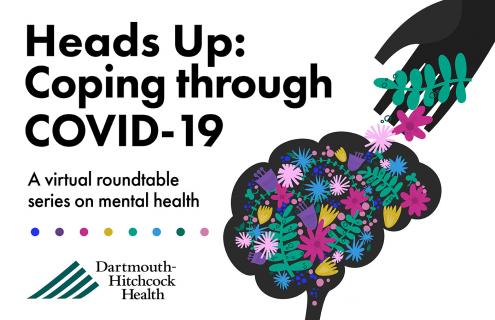 Following the success of the first two mental health virtual series, Dartmouth-Hitchcock Health (D-HH), is launching a third installment of its roundtable series, Heads Up: Coping Through COVID-19, in response to the ongoing COVID-19 pandemic.
The four-part series launches Wednesday, September 8, at noon EST, on the D-H YouTube channel with a discussion on the anxiety and excitement students, parents and teachers are experiencing as they return to school.
This third installment of the popular "Heads Up: Coping Through COVID-19" features D-HH experts and community members discussing the continued challenges and concerns brought about by the pandemic and the surging Delta variant and offer information, tips and techniques for coping and maintaining health and returning to "normal life," with a focus on mental health in a post-pandemic world.
The complete "Heads Up: Coping Through COVID-19" lineup is:
Segment 1: Wednesday, September 8, noon EST: "Returning to the Classroom: Excitement and Anxiety" – featuring Angelica Ladd, the parent of two daughters who are too young to be vaccinated; Emmett Smyth, a high school freshman at Rivendell Academy in Orford, New Hampshire; Steve Beals, principal of Alvirne High School in Hudson, New Hampshire; and John Broderick, Senior Director of Public Affairs at Dartmouth-Hitchcock, who will discusses anxieties and concerns that parents, school administrators and students face as they return to school, daycare and extracurricular activities, and how to cope with the challenges of going back to school after spending the past two years in a remote or hybrid learning environment.
Segment 2: Returning to the Workplace – How do I do this again? Part 1 – Employees – panelists to be announced, who will address interacting with coworkers, the Delta variant, employer vaccine mandates, changing mask guidance and more.
Segment 3: Returning to the Workplace – How do I do this again? Part 2 – Employers/Business Owners – panelists to be announced, who will address decisions about working at home, remote, or hybrid, mask guidance, legal implications of vaccine requirements and more.
Segment 4: Mental health post-pandemic – Where do we go from here? A conversation with John Broderick – panelists to be announced, who will address valuing mental and emotional health, having open and honest conversations with youth about mental health, lessons learned from the pandemic and more.
Air dates for segments 2-4 are still being determined and will be updated on the Heads-Up website.
About Dartmouth-Hitchcock Health
Dartmouth-Hitchcock Health (D-HH), New Hampshire's only academic health system and the state's largest private employer, serves a population of 1.9 million across northern New England. D-HH provides access to more than 2,000 providers in almost every area of medicine, delivering care at its flagship hospital, Dartmouth-Hitchcock Medical Center (DHMC) in Lebanon, NH. DHMC was named again in 2020 as the #1 hospital in New Hampshire by U.S. News & World Report, and recognized for high performance in 9 clinical specialties and procedures. Dartmouth-Hitchcock Health includes the Norris Cotton Cancer Center, one of only 51 NCI-designated Comprehensive Cancer Centers in the nation Children's Hospital at Dartmouth-Hitchcock, the state's only children's hospital; member hospitals in Lebanon, Keene, and New London, NH, and Windsor, VT, and Visiting Nurse and Hospice for Vermont and New Hampshire; and 24 Dartmouth-Hitchcock clinics that provide ambulatory services across New Hampshire and Vermont. The D-HH system trains nearly 400 residents and fellows annually, and performs world-class research, in partnership with the Geisel School of Medicine at Dartmouth and the White River Junction VA Medical Center in White River Junction, VT.