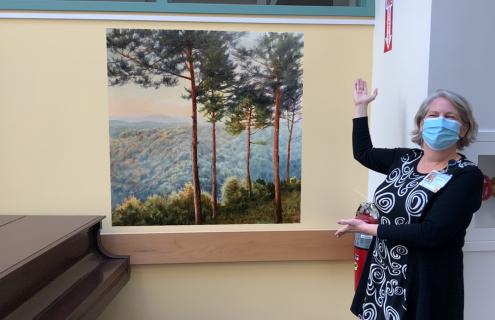 This collaborative project with NHBCA and Membit is an innovative way to merge together art, technology, and health care.
Marianne Barthel, Director of D-HH Arts Program
The New New Hampshire Business Committee for the Arts (NHBCA) in partnership with Dartmouth-Hitchcock Health (D-HH) and Membit – an augmented reality company – is featuring original artwork installed at the new Ambulatory Surgical Center located at 100 Hitchcock Way at Dartmouth-Hitchcock Manchester. The Membit's in home augmented reality app Aery Viewing Room offers an interactive virtual art-experience. This art exploration is a first of its kind to be presented in partnership with any health care institution in New Hampshire.
This augmented reality exhibit allows Dartmouth-Hitchcock Health to share The Art of Healing installation with those who visit any of their locations throughout New Hampshire – and beyond. Augmented reality is a digital tool that allows digital content to be overlaid in the real world using mobile devices. With augmented reality, there are no physical constraints or restrictions of space, security, or installation logistics. The tangible objects from The Art of Healing installation are displayed throughout the Ambulatory Surgical Center, but the artwork can be enjoyed using an iOS device anywhere there is access to Wi-Fi, including all of Dartmouth-Hitchcock Health's locations. The virtual exhibition comes at a time when socially distant art exhibitions have expanded the reach of engaging audiences during the restrictions of COVID-19.
This collaboration highlights D-HH's longtime commitment to incorporating the arts into the environment to create a healing atmosphere for the health systems' many patients, staff, and visitors alike. The artwork was carefully selected by Director of D-HH Arts Program Marianne Barthel with the assistance of Joni Taub of Art 3 Gallery. Highlights of the installation include a 40"H x 120"W hand-carved ceramic wall relief created by artist Natalie Blake and three contemporary oil paintings by Nick Paciorek depicting iconic buildings and scenes of Manchester, all of which were specifically commissioned for this new building.
"This collaborative project with NHBCA and Membit is an innovative way to merge together art, technology, and health care," said Barthel. "Membit's interactive experience will aid in promoting the importance of art in health care settings, New England artists, AR technology, and make fine art accessible to a widespread audience. Patients, staff, and the public will be able to enjoy the healing power of art wherever they are."
Through the partnership, the NHBCA will demonstrate the creative economy at work by bringing together art, technology, and health care. The art-experience is available to the public now through May 18. The app will showcase 12 art pieces from the Manchester building which features all New England-based artists. The exhibition highlights the significance of the role of arts in health care. The beauty of this virtual art experience is that it helps to make the art widely available through the Aery app by Membit allowing users to safely interact with New England art and artists at their leisure, especially when access to the renovated space is limited" Vice President of Membit Karina Mitchell explained, "Augmented reality is still in early days but it's clear that overlaying the world with digital content using this emerging technology is going to grow. It excites me to be able to collaborate with forward thinking partners like D-HH and NHBCA to introduce the magic of creative applications of AR to our local businesses and the public."
###
About New Hampshire Business Committee for the Arts: The NHBCA is a nonprofit statewide membership organization that advocates for the value of the arts in economic, social and community development by facilitating people and projects that enhance engagement in the arts.
About Membit: MEMBIT, INC. is an augmented reality company developing solutions for art, entertainment, business and education. Membit's technology consists of both in home and specialty location based patented technology.  Organizations can take advantage of emerging technology in an easy, approachable and shareable way without the heavy lift and challenges of developing the experiences on their own.
About Dartmouth-Hitchcock Health
Dartmouth-Hitchcock Health (D-HH), New Hampshire's only academic health system and the state's largest private employer, serves a population of 1.9 million across northern New England. D-HH provides access to more than 2,000 providers in almost every area of medicine, delivering care at its flagship hospital, Dartmouth-Hitchcock Medical Center (DHMC) in Lebanon, NH. DHMC was named again in 2020 as the #1 hospital in New Hampshire by U.S. News & World Report, and recognized for high performance in 9 clinical specialties and procedures. Dartmouth-Hitchcock Health includes the Norris Cotton Cancer Center, one of only 51 NCI-designated Comprehensive Cancer Centers in the nation; Children's Hospital at Dartmouth-Hitchcock, the state's only children's hospital; member hospitals in Lebanon, Keene, and New London, NH, and Windsor, VT, and Visiting Nurse and Hospice for Vermont and New Hampshire; and 24 Dartmouth-Hitchcock clinics that provide ambulatory services across New Hampshire and Vermont. The D-HH system trains nearly 400 residents and fellows annually, and performs world-class research, in partnership with the Geisel School of Medicine at Dartmouth and the White River Junction VA Medical Center in White River Junction, VT.