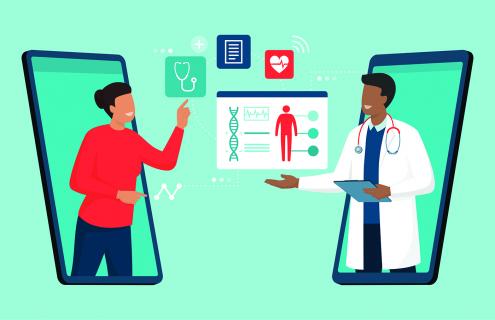 Virtual Urgent Care does not replace a patient's relationship with a primary care provider, but serves as a supplement to that care.
Kevin M. Curtis, MD, MS
Here's a common problem: You've got an annoying rash. It might be nothing. Then again, it might be an allergy or something that could benefit from medication. If only you could just show a doctor without scheduling and taking time off work for an appointment.
Starting March 15, patients with non-emergency issues like rashes, coughs, upper respiratory ailments, gastrointestinal symptoms, headaches, pink eye, earaches, vomiting, urinary problems and other common ailments can be treated through Dartmouth-Hitchcock Health (D-HH) Virtual Urgent Care. "Accessible 24 hours a day, 7 days a week, 365 days a year—holidays included, Virtual Urgent Care is designed to address common complaints and illnesses that everyone has at one point or another," says Kevin M. Curtis, MD, MS, medical director, Connected Care.
Patients initiate and connect to a Virtual Urgent Care visit through their smartphone, tablet, laptop or computer. Patients without this technology can receive care using a phone.
"Virtual Urgent Care does not replace a patient's relationship with a primary care provider, but serves as a supplement to that care," says Curtis. "It does replace much of the non-emergency care that is often delivered by emergency departments (EDs) or urgent care centers not only during typical workdays, but also at night or on weekends and holidays. Patients can expect the same high quality of care they receive during those other, in-person visits."
Video and phone appointments are staffed by D-HH providers as well as physicians contracted through MDLIVE, a nationwide provider of telehealth services. All providers are U.S. board-certified, state-licensed, and able to treat patients of all ages who present a wide range of conditions.
Just like office or ED visits, Virtual Urgent Care visits comply with HIPPA (Health Insurance Portability and Accountability Act) guidelines and ensure patient privacy. Patient and visit details are shared only with the patient's primary care physician. Physicians will prescribe medication when appropriate and send prescriptions to the patient's pharmacy of choice. That allows D-HH patients to connect to a provider through a trusted service and receive the medication they require, no matter where they are when they need care; at home, at work or out of town.
Each Virtual Urgent Care visit costs $59, far less than would be charged for an emergency room or urgent care center visit.
Patients can register for D-HH Virtual Urgent Care:
Online: visit go.d-h.org/virtualurgentcare.

By phone: call the toll-free number 833.599.0477.

By texting "dhhvirtual" to 635-483 for registration assistance from Sophie, our virtual assistant.
Registration is free. Due to Medicare and Medicaid billing requirements, D-HH Virtual Urgent Care is not available to those with Medicare or Medicaid at this time. 
For more information, visit go.d-h.org/virtualurgentcare or call (833) 599-0477.