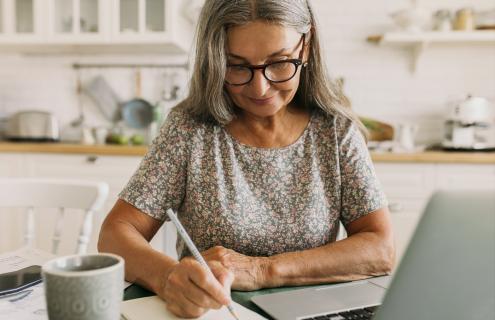 A grateful patient writes on a program comment card:
"I came in for radiation nervous and angry about my condition. After my massage, I was feeling strong and calm. What a great service! I will come in early for a massage from now on. I am so grateful to Dartmouth Cancer Center for taking care of me as a person." 
Across the country, more people with cancer are asking for complementary care services to improve their well-being during cancer treatment. Complementary therapies are not specific to a particular cancer type. They are used to treat symptoms shared by patients across many cancer diagnoses. 
People use complementary therapies and services for a variety of reasons, including to:
Help reduce cancer treatment side effects like nausea, pain and fatigue.
Bring relaxation and comfort.
Ease the worries and related stresses of cancer treatment.  
Take action and help with their own care. 
Learn new skills and techniques through educational classes and workshops.
The Dartmouth Cancer Center Complementary Care Program has emerged from what was formerly called The Patient and Family Support Services program. The 2022 Program Guide and calendar are now available, and outlines complementary programs, workshops and services provided free of charge to current and former patients and their care partners.  
Complementary care is not alternative care
There is often confusion between "complementary care" and "alternative care" therapies. Complementary therapies are services offered along with standard oncology care. Alternative therapies are scientifically unproven and are used instead of standard cancer treatment. We recommend patients discuss with their clinicians any alternative therapies they might be considering. 
 
The National Cancer Institute offers a helpful booklet on their website: Thinking About Complementary and Alternative Medicine. These booklets are also available in our patient education kiosks in the 3K Hematology Oncology reception area in Dartmouth Hitchcock Medical Center's Norris Cotton Cancer Care Pavilion.
As Cancer Center Director Steven D. Leach, MD, articulates, "These programs are complementary in at least two ways: complementing our medical programs and 'complimentary' as in free of charge. Program offerings complement the medical care you are receiving and support our philosophy that participating in wellness programs enhances your overall well-being." 
 
Services such as massage, reiki, exercise, nutrition, meditation, yoga, qigong, visual arts, music, writing—and a variety of support groups emphasize improving quality of life while coping with distress and the physical and emotional challenges that often come with a cancer diagnosis. All are made possible by the generosity of the Friends of Dartmouth Cancer Center. 
To learn more about the services available to you, please contact the Dartmouth Cancer Center Complementary Care Program.
Andrea C. Buccellato, Program Manager
Michelle B. Davis, Program Specialist
CancerSupport@hitchcock.org
(603) 650-7751