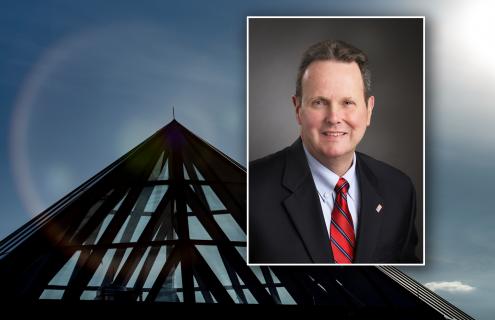 It is our goal to provide quality care that's also accessible, so the addition of this office will be an asset to Otolaryngology and Audiology at D-H.
James E. Snyder, MD
Lebanon, NH – As part of its ongoing effort to expand services to patients in New Hampshire, Dartmouth-Hitchcock (D-H) announces the opening of a new Otolaryngology - Head and Neck Surgery and Audiology office located at 2 Pillsbury St. in Concord. James E. Snyder, MD, will be seeing patients with ear, nose and throat disorders at the new office in Concord.
Snyder, who was previously in private practice in Londonderry, currently sees D-H patients at 30 Canton St. in Manchester. The creation of this new office brings Otolaryngology services to D-H patients in the Capital Area for the first time.
"I am excited to be part of expanding D-H's ear, nose and throat services for residents of Concord and surrounding towns, while still being available to patients in Greater Londonderry as I continue to work as well from our D-H Manchester office," Snyder said. "It is our goal to provide quality care that's also accessible, so the addition of this office will be an asset to Otolaryngology and Audiology at D-H."
Snyder joins a regional community group practice team of otolaryngologists who offer comprehensive treatment and surgery for disorders of the head, neck and throat for adult and pediatric patients. Conditions treated include:
Diseases of the tonsils and adenoids
Sleep apnea and snoring cessation
Allergy evaluation and treatment
Hearing disorders, vertigo and dizziness
Cysts and tumors of the mouth, neck and throat
Thyroid surgery
Ear nose and throat disorders in children
Disorders of the voice and larynx
Snyder, who joined D-H this year, attended medical school at the Pennsylvania State University College of Medicine. He completed his residency at the National Naval Medical Center in Bethesda, MD. He is board certified by the American Board of Otolaryngology and a Fellow of the American College of Surgeons.
The new D-H Otolaryngology and Audiology office at 2 Pillsbury St. in Concord opened on June 7.
About Dartmouth-Hitchcock
DARTMOUTH-HITCHCOCK HEALTH (D-HH), New Hampshire's only academic health system and the state's largest private employer, serves a population of 1.9 million across Northern New England. D-H provides access to more than 2,400 providers in almost every area of medicine, delivering care at its flagship hospital, Dartmouth-Hitchcock Medical Center (DHMC) in Lebanon, NH. DHMC was named in 2019 as the #1 hospital in New Hampshire by U.S. News & World Report, and recognized for high performance in 13 clinical specialties and procedures. Dartmouth-Hitchcock Health also includes the Norris Cotton Cancer Center, one of only 51 NCI-designated Comprehensive Cancer Centers in the nation; the Children's Hospital at Dartmouth-Hitchcock, the state's only children's hospital; affiliated member hospitals in Lebanon, Keene, and New London, NH, and Windsor, VT, and Visiting Nurse and Hospice for Vermont and New Hampshire; and 24 Dartmouth-Hitchcock clinics that provide ambulatory services across New Hampshire and Vermont. The D-H system trains nearly 400 residents and fellows annually, and performs world-class research, in partnership with the Geisel School of Medicine at Dartmouth and the White River Junction VA Medical Center in White River Junction, VT.