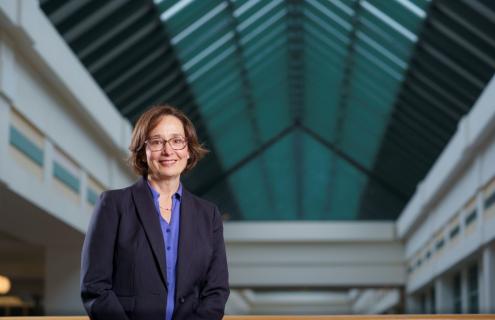 Dartmouth-Hitchcock (D-H) named Wendy Fielding to the position of Chief Financial Officer last month.
Fielding joined D-H in 2009 as the Vice President of Financial Planning, with responsibilities for business and analytical decision support, oversight of the annual financial planning and budget process, and development of the organization's long-term financial plan. In more recent years, Fielding has assumed an increasing level of responsibility for D-H financial issues and for supporting the D-H leadership team. In addition to her expanded D-H role, Fielding will retain her existing Dartmouth-Hitchcock Health system finance responsibilities.
Prior to joining D-H, Fielding held positions as the Chief Financial Officer at Mount Desert Island Hospital in Bar Harbor, Maine, and the Director of Financial Reporting & Analysis at Boston Medical Center. She is currently a Trustee of New London Hospital and previously served on the Board of Cheshire Medical Center.
Fielding holds a Master of Business Administration degree in Healthcare Management from Boston University and a Bachelor of Science degree in Finance from Bentley University. Fielding was selected as a Carol Emmott Fellow in 2019, and is passionate about supporting women leaders to advance their healthcare careers and to ultimately transform healthcare.
About Dartmouth-Hitchcock
DARTMOUTH-HITCHCOCK HEALTH (D-HH), New Hampshire's only academic health system and the state's largest private employer, serves a population of 1.9 million across Northern New England. D-H provides access to more than 2,400 providers in almost every area of medicine, delivering care at its flagship hospital, Dartmouth-Hitchcock Medical Center (DHMC) in Lebanon, NH. DHMC was named in 2019 as the #1 hospital in New Hampshire by U.S. News & World Report, and recognized for high performance in 13 clinical specialties and procedures. Dartmouth-Hitchcock Health also includes the Norris Cotton Cancer Center, one of only 51 NCI-designated Comprehensive Cancer Centers in the nation; the Children's Hospital at Dartmouth-Hitchcock, the state's only children's hospital; affiliated member hospitals in Lebanon, Keene, and New London, NH, and Windsor, VT, and Visiting Nurse and Hospice for Vermont and New Hampshire; and 24 Dartmouth-Hitchcock clinics that provide ambulatory services across New Hampshire and Vermont. The D-H system trains nearly 400 residents and fellows annually, and performs world-class research, in partnership with the Geisel School of Medicine at Dartmouth and the White River Junction VA Medical Center in White River Junction, VT.