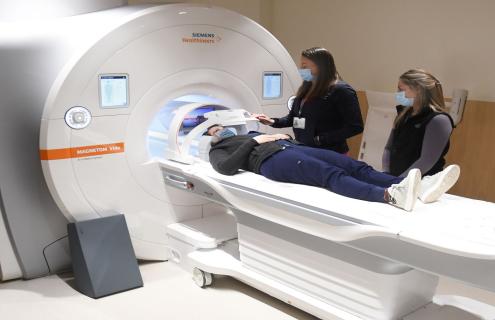 Our state-of-the-art MRI unit equipped with the Innovision system utilizes the very latest technology to produce exceptional, highly detailed images for patient's diagnostic needs.
Kristyn M. O'Neil, BS, CNMT, NCT
Dartmouth Health's Dartmouth Hitchcock Clinics are now the home of one of the latest innovations in magnetic resonance imaging (MRI) technology. The Innovision system, developed by Siemens Healthineers, at the Manchester Clinic is the first such unit to be installed in the United States. The clinic offers patients the option of viewing an entertainment screen while their MRI is being performed, making the experience more tolerable and especially improved for child patients.
MRI exams using traditional machines are performed in a relatively confined space, are noisy, and can be lengthy and boring. When having an MRI with the Innovision unit, the patient is engaged by a sound and video experience as soon as they lie on the table and while inside the unit. The patient display keeps patients informed about their remaining scan time and displays predefined or custom content. The patient display makes the unit appear virtually larger, which is helpful for patients who may feel claustrophobic.
The Innovision, which was paid for with unrestricted philanthropic funds through the Dartmouth Health Children's Child Life Program, also includes comfort pillows made of memory foam that reduce scan noise and deliver clear audio signals to the patient. With Innovision, the patient can hear their favorite music clearly, and can also hear voice commands from the MRI technologist, thanks to the integrated audio system and specialized earplugs.
"Our state-of-the-art MRI unit equipped with the Innovision system utilizes the very latest technology to produce exceptional, highly detailed images for patient's diagnostic needs," said Kristyn M. O'Neil, BS, CNMT, NCT, director of Radiology for Dartmouth Hitchcock Clinics. "We are so excited to be one of the first health systems in the country to offer Innovision to our patients, giving them the option to play videos, music or peaceful moving scenery to make the time go by quicker, as well as watch a countdown of minutes remaining until their exam is completed. This technology will be tremendous for our pediatric patients who need to remain still during the exam."
For more information about Innovision, visit https://pep.siemens-info.com/en-us/innovision-the-in-bore-infotainment-solution.
About Dartmouth Health
Dartmouth Health, New Hampshire's only academic health system and the state's largest private employer, serves patients across northern New England. Dartmouth Health provides access to more than 2,000 providers in almost every area of medicine, delivering care at its flagship hospital, Dartmouth Hitchcock Medical Center (DHMC) in Lebanon, NH, as well as across its wide network of hospitals, clinics and care facilities. DHMC is consistently named the #1 hospital in New Hampshire by U.S. News & World Report, and recognized for high performance in numerous clinical specialties and procedures. Dartmouth Health includes its Dartmouth Cancer Center, one of only 51 National Cancer Institute-designated Comprehensive Cancer Centers in the nation, and the only such center in northern New England; Dartmouth Health Children's, including the Children's Hospital at Dartmouth Hitchcock Medical Center, the state's only children's hospital and clinic locations around the region; member hospitals in Lebanon, Keene and New London, NH, and Windsor, VT, and Visiting Nurse and Hospice for Vermont and New Hampshire; and more than 24 clinics that provide ambulatory services across New Hampshire and Vermont. Through its historical partnership with Dartmouth and the Geisel School of Medicine, Dartmouth Health trains nearly 400 medical residents and fellows annually, and performs cutting-edge research and clinical trials recognized across the globe with Geisel and the White River Junction VA Medical Center in White River Junction, VT. Dartmouth Health and its more than 13,000 employees are deeply committed to serving the healthcare needs of everyone in our communities, and to providing each of our patients with exceptional, personal care.