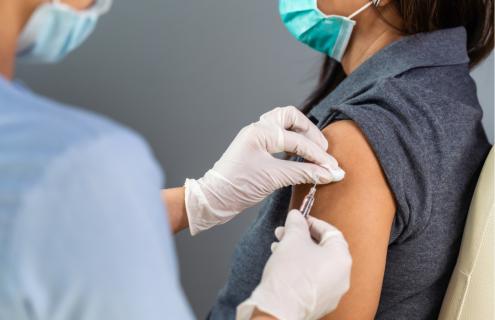 Today federal agencies have called for a temporary pause to the administration of the Johnson & Johnson (J&J) Janssen COVID-19 vaccine while investigating reports of six individuals experiencing blood clots within three weeks of receiving the injection. Section Chief of Hematology Medicine at Dartmouth-Hitchcock Medical Center, Christopher Lowrey, MD, addresses concerns in a video update.
"While Dartmouth-Hitchcock Health (D-HH) is following national guidance and temporarily suspending use of the Johnson & Johnson (J&J) COVID-19 vaccine, it's important to remember that of the approximately 37,000 J&J vaccines that have been given in NH to date, there have been no reported cases of adverse events in the state," said Lowrey. "I want to reassure our patients, staff, and community that D-HH continues to stand by the importance of the COVID-19 vaccines and applaud the federal agencies for taking the necessary steps to evaluate and review the data involved in the six reported US cases."
About Dartmouth-Hitchcock Health
Dartmouth-Hitchcock Health (D-HH), New Hampshire's only academic health system and the state's largest private employer, serves a population of 1.9 million across northern New England. D-HH provides access to more than 2,000 providers in almost every area of medicine, delivering care at its flagship hospital, Dartmouth-Hitchcock Medical Center (DHMC) in Lebanon, NH. DHMC was named again in 2020 as the #1 hospital in New Hampshire by U.S. News & World Report, and recognized for high performance in 9 clinical specialties and procedures. Dartmouth-Hitchcock Health includes the Norris Cotton Cancer Center, one of only 51 NCI-designated Comprehensive Cancer Centers in the nation Children's Hospital at Dartmouth-Hitchcock, the state's only children's hospital; member hospitals in Lebanon, Keene, and New London, NH, and Windsor, VT, and Visiting Nurse and Hospice for Vermont and New Hampshire; and 24 Dartmouth-Hitchcock clinics that provide ambulatory services across New Hampshire and Vermont. The D-HH system trains nearly 400 residents and fellows annually, and performs world-class research, in partnership with the Geisel School of Medicine at Dartmouth and the White River Junction VA Medical Center in White River Junction, VT.