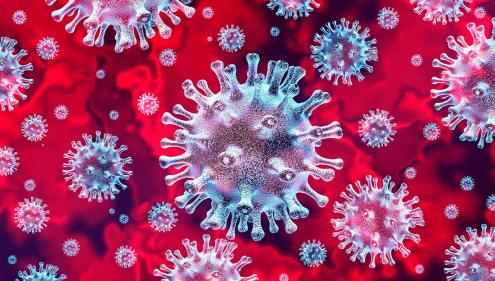 Leaders from Dartmouth-Hitchcock Health (D-HH), which serves a population of 1.9 million patients across northern New England, held a news conference on Wednesday, December 8, to address New Hampshire's growing COVID-19 crisis, ongoing vaccine hesitancy, and to provide an update on the stark reality facing D-HH and the region's hospitals.
With New Hampshire grappling with skyrocketing transmission rates of COVID-19 – the Granite State is currently number one in the country for new COVID-19 cases per capita – and reporting the lowest percentage of fully vaccinated individuals in New England, D-HH, New Hampshire's largest healthcare system, takes its role in public health seriously and gathered its leaders to discuss what the current COVID-19 trends mean for hospitals and for communities they serve.
Joanne M. Conroy, MD, CEO and President of Dartmouth-Hitchcock (D-H) and D-HH; Edward J. Merrens, MD, MHCDS, Chief Clinical Officer of D-HH; Michael S. Calderwood, MD, MPH, Chief Quality Officer at Dartmouth-Hitchcock Medical Center (DHMC); Susan A. Reeves, EdD, RN, CENP, Executive Vice President of DHMC and Chief Nursing Executive of D-HH; and Tom Manion, CEO and President of New London Hospital (NLH), discussed the dire situation in Granite State hospitals, where beds are rapidly filling, and issued an urgent plea to New Hampshire residents to get vaccinated (or boosted) against the virus.
Merrens noted that the overwhelming majority of new COVID-19-positive patients in New Hampshire hospitals and occupying intensive care unit (ICU) beds are unvaccinated, and that 17 percent are under age 40. The D-HH representatives emphasized the reality that unvaccinated patients are the sickest, they are 14 times more likely to die from COVID-19 than vaccinated patients, and they are using beds and resources that would otherwise be used for people who are critically ill or injured. In many cases, these patients are being transferred to other hospitals, including out-of-state, or turned away.
Reeves noted that DHMC is implementing additional measures, such as new guidelines for pre-procedure/pre-admission testing and requiring all staff and visitors to wear medical masks. Reeves also discussed how DHMC is working on plans for how to expand its inpatient critical care availability, as well as other inpatient bed capacity.
Manion described how COVID-19 is impacting NLH, a rural, 25-bed critical access hospital. Like many hospitals across the region and country, NLH is experiencing staffing shortages in all departments, placing a burden on its staff. This shortage is being further intensified as staff deal with childcare challenges when their children are exposed to the virus. He said their need to "play defense" on a daily basis is impacting their ability to be the healthcare resource community members rely on.
D-HH has been at the forefront of informing and educating the community since the onset of the pandemic, nearly two years ago, and advocating for safety precautions such as masking, physical distancing, hand washing – and more recently, vaccinations and now, boosters. Conroy and her colleagues renewed their call to action today for all to continue these measures, especially during the holiday season, to relieve the strain on healthcare providers and to protect each other.
A full recording of the press conference is available here: https://www.youtube.com/watch?v=ITuXBhy3XV4
About Dartmouth-Hitchcock
DARTMOUTH-HITCHCOCK HEALTH (D-HH), New Hampshire's only academic health system and the state's largest private employer, serves a population of 1.9 million across Northern New England. D-H provides access to more than 2,400 providers in almost every area of medicine, delivering care at its flagship hospital, Dartmouth-Hitchcock Medical Center (DHMC) in Lebanon, NH. DHMC was named in 2019 as the #1 hospital in New Hampshire by U.S. News & World Report, and recognized for high performance in 13 clinical specialties and procedures. Dartmouth-Hitchcock Health also includes the Norris Cotton Cancer Center, one of only 51 NCI-designated Comprehensive Cancer Centers in the nation; the Children's Hospital at Dartmouth-Hitchcock, the state's only children's hospital; affiliated member hospitals in Lebanon, Keene, and New London, NH, and Windsor, VT, and Visiting Nurse and Hospice for Vermont and New Hampshire; and 24 Dartmouth-Hitchcock clinics that provide ambulatory services across New Hampshire and Vermont. The D-H system trains nearly 400 residents and fellows annually, and performs world-class research, in partnership with the Geisel School of Medicine at Dartmouth and the White River Junction VA Medical Center in White River Junction, VT.