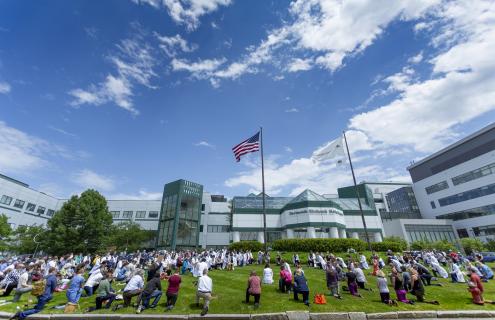 As a system, we are working more diligently than ever to include all voices, whether they are employees, patients or those who live and work in our local communities, in the ongoing conversation and dialogue surrounding these key issues.
Joanne M. Conroy, MD, CEO and President of Dartmouth-Hitchcock and D-HH
Dartmouth-Hitchcock Health (D-HH), a member of the Healthcare Anchor Network, has committed to taking concrete action and addressing the impact of structural racism along with 38 other health care systems in the United States. The Healthcare Anchor Network – a national collaboration of leading health care systems – jointly created a "Racism is a Public Health Crisis" statement. Collectively, D-HH and these health institutions employ more than a half-million employees across 45 states and the District of Columbia.
Moved by the deaths of George Floyd, Rayshard Brooks, Ahmaud Arbery, Breonna Taylor and others, D-HH stands with all those who have lifted their voices in protest with a call to action. As a result of these events and the COVID-19 pandemic's disproportionate effect on communities of color, the D-HH system formed the Diversity, Equity, Inclusion and Belonging Task Force, led by Sue Mooney, MD, MS, FACOG, President and CEO of Alice Peck Day Memorial Hospital.
This task force, which came together in June, 2020, is working to understand the current efforts across the D-HH system to increase diversity, inclusion and equity and to provide a space for our employees to share their stories anonymously.
In addition, the D-HH Population Health team has worked with health system leaders across the nation to understand how business practices can be leveraged to improve economic well-being in communities. Often referred to as anchor institutions, health systems can improve the socioeconomic conditions that ultimately impact health by using hiring, purchasing, and investment decisions to improve the economic vitality of communities and eliminate socially-driven health disparities including those which are rooted in racism and other forms of discrimination.
For D-HH, taking action to overcome systemic racism and the health care disparities in local communities includes hiring from, purchasing from and investing in our local communities. It also means tracking our progress in these efforts, and actively engaging and listening to Black and Indigenous patients and colleagues, modifying behaviors where needed and learning from our experiences.
"Dartmouth-Hitchcock Health has and continues to look within its own walls to confirm our commitment to reflect, foster and embrace a culture that welcomes and values diversity and inclusion," said Joanne M. Conroy, MD, CEO and President of Dartmouth-Hitchcock and D-HH. "As a system, we are working more diligently than ever to include all voices, whether they are employees, patients or those who live and work in our local communities, in the ongoing conversation and dialogue surrounding these key issues."
D-HH is committed to implementing policy changes that promote equity and opportunity; improving primary and specialty care; helping our communities overcome chronic diseases; advocating for investments in improvements to health access, quality and outcomes; promoting and retaining Black and Indigenous leaders; providing anti-racism and implicit bias training for all staff and administrators; and advocating for funding for programming for social needs, social services and social justice.
"Racism is a public health crisis. In Black and Indigenous communities and communities of color, we see higher rates of illness and death as a result of systemic racism. We need to harness our collective strength to invest in our communities and to more intentionally hire and buy from local Black and Indigenous communities so that all people can be healthy and thrive," said Healthcare Anchor Network Director David Zuckerman. "We all must better understand and act as agents of change regarding the impacts of systemic racism on social and economic conditions and health outcomes," added Zuckerman.
In addition to D-HH, the health care systems that have signed onto this statement include Advocate Aurora Health, Alameda Health System, AMITA Health, Baystate Health, BJC HealthCare, Bon Secours Mercy Health, Boston Children's Hospital, Boston Medical Center, Children's Hospital of Philadelphia, ChristianaCare, Cleveland Clinic, CommonSpirit Health, Cone Health, Denver Health, Einstein Healthcare Network, Franciscan Missionaries Of Our Lady Health System, Gundersen Health System, Kaiser Permanente, Lurie Children's, M Health Fairview, Maimonides Medical Center, Mass General Brigham, Northwell Health, ProMedica, Providence St. Joseph Health, Rush University Medical Center, RWJBarnabas Health, San Mateo County Health, Seattle Children's, Spectrum Health, The MetroHealth System, Trinity Health, UC San Francisco, UMass Memorial Health, University Hospitals, University of Utah Health, VCU Health, and Yale New Haven Health.
About Dartmouth-Hitchcock Health
Dartmouth-Hitchcock Health (D-HH), New Hampshire's only academic health system and the state's largest private employer, serves a population of 1.9 million across northern New England. D-HH provides access to more than 2,000 providers in almost every area of medicine, delivering care at its flagship hospital, Dartmouth-Hitchcock Medical Center (DHMC) in Lebanon, NH. DHMC was named again in 2020 as the #1 hospital in New Hampshire by U.S. News & World Report, and recognized for high performance in 9 clinical specialties and procedures. Dartmouth-Hitchcock Health includes the Norris Cotton Cancer Center, one of only 51 NCI-designated Comprehensive Cancer Centers in the nation Children's Hospital at Dartmouth-Hitchcock, the state's only children's hospital; member hospitals in Lebanon, Keene, and New London, NH, and Windsor, VT, and Visiting Nurse and Hospice for Vermont and New Hampshire; and 24 Dartmouth-Hitchcock clinics that provide ambulatory services across New Hampshire and Vermont. The D-HH system trains nearly 400 residents and fellows annually, and performs world-class research, in partnership with the Geisel School of Medicine at Dartmouth and the White River Junction VA Medical Center in White River Junction, VT.