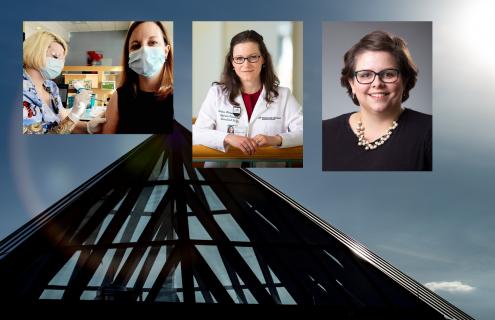 We are inspired by the everyday heroism of the D-HH AmplifiHER honorees.
Joanne M. Conroy, MD, Dartmouth-Hitchcock Health CEO and President
Three Dartmouth-Hitchcock Health (D-HH) staff members were recognized as AmplifiHER honorees at the annual New Hampshire Women's Foundation (NHWF) Gala on Friday, May 21, 2021.
Held virtually due to the ongoing COVID-19 pandemic, this year's event was dedicated to the women and girls of the pandemic who have stepped up in ways big and small to support their families, loved ones and communities through this global health crisis.
"We are inspired by the everyday heroism of the D-HH AmplifiHER honorees," said D-HH CEO and President Joanne M. Conroy, MD, who co-chaired this year's Gala. "We honor them today, along with all the other AmplifiHERs recognized by the Women's Foundation, and the many unsung 's'heroes' who work throughout our health system, quietly demonstrating the strength of women to get the job done."
The D-HH AmplifiHER honorees for 2021 are:
Antonia Altomare, DO, MPH, an infectious disease and international health physician at Dartmouth-Hitchcock Medical Center (DHMC). Altomare's specialty focus in infection control and epidemic preparedness and response, and previous experience establishing DHMC as an assessment hospital during the Ebola epidemic and creating and leading DHMC's High Threat Infection Team, made her a natural fit to help her lead D-H in its COVID-19 response from the early days of the pandemic.
Caitlin Adams Barker, MSN, RN, an infection preventionist (IP) at DHMC. As an IP, Adams Barker was an integral part DHMC's incident command and emergency response team. As the subject matter expert, she lead most of the contact tracing work, served as primary liaison to occupational medicine, developed and updated all infection control policies and procedures, completed rounds on the COVID-19 unit, while serving patients with compassion all along.
Danielle Smith, a medical assistant at Children's Hospital at Dartmouth-Hitchcock (CHaD). After losing her son to cancer, Smith was inspired by the nurses who cared for her son at CHaD to return to school and work toward a nursing degree. Her classes were put on hold during the pandemic, but she was determined to continue helping however she could. She taught hospital staff how to don and doff personal protective equipment, screened staff entering and exiting the hospital for symptoms, delivered supplies all over the hospital, answered the COVID-19 hotline, staffed one of the DHMC entrances, and volunteers at state-run fixed vaccine sites. Once classes resumed, she completed a medical assistant program and now works in the pediatric clinic. 
Also recognized was Emily Galeva, a student at Lebanon High School who has contributed to the 99 Faces art installation at DHMC and took part in D-H's anti-vaping campaign No Safe Vape and mental health webinar series "Heads Up: Coping through COVID-19."
About Dartmouth-Hitchcock Health
Dartmouth-Hitchcock Health (D-HH), New Hampshire's only academic health system and the state's largest private employer, serves a population of 1.9 million across northern New England. D-HH provides access to more than 2,000 providers in almost every area of medicine, delivering care at its flagship hospital, Dartmouth-Hitchcock Medical Center (DHMC) in Lebanon, NH. DHMC was named again in 2020 as the #1 hospital in New Hampshire by U.S. News & World Report, and recognized for high performance in 9 clinical specialties and procedures. Dartmouth-Hitchcock Health includes the Norris Cotton Cancer Center, one of only 51 NCI-designated Comprehensive Cancer Centers in the nation Children's Hospital at Dartmouth-Hitchcock, the state's only children's hospital; member hospitals in Lebanon, Keene, and New London, NH, and Windsor, VT, and Visiting Nurse and Hospice for Vermont and New Hampshire; and 24 Dartmouth-Hitchcock clinics that provide ambulatory services across New Hampshire and Vermont. The D-HH system trains nearly 400 residents and fellows annually, and performs world-class research, in partnership with the Geisel School of Medicine at Dartmouth and the White River Junction VA Medical Center in White River Junction, VT.